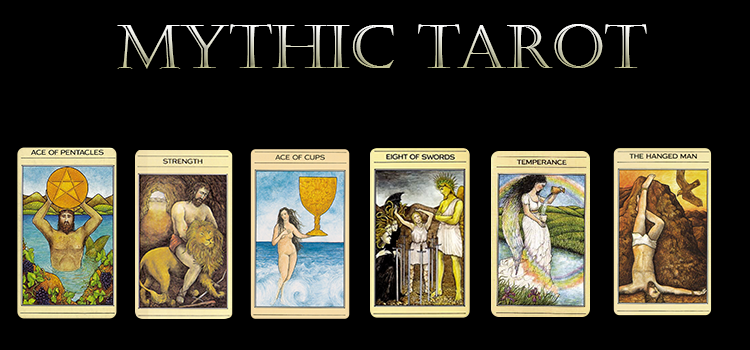 Tarot Card of the Week: Aug 29 – Sept 4, 2016
Two of Swords
This week's card is the Two of Swords from the Mythic Tarot.  It's a card about difficult choices.
In this card the man and the woman represent choices you may need to make this week. You could find yourself in the middle trying to make a decision that will avoid conflict in your life.
The suit of Swords in the Tarot is associated with action, change, force, power, oppression, ambition, courage and conflict.  An action you take could be constructive or destructive.
Swords are tricky as they can also mean hatred, enemies, battles at work or at home.
The Two of Swords therefore serves as a reminder that life's decisions are frequently quite difficult and raise the possibility of painful consequences.
However, you must "take the bull by the horns" and make your decisions with your best intentions, fully aware of the possible consequences. Avoidance will ultimately lead to a greater conflict.
In this card the man may be blinded by the helmet, although he can see he may not have the information he needs to make an informed choice. The woman or queen is the steady voice in your head or your intuition and gut feeling, letting you know that the answer is within you.
Once you are able to remove your blindfold and see the situation for what it really is, you will be in a much better position to determine your path forward. Weigh out all your options. Get feedback from other people or opinions from people you trust to make the best decision you can.
The Two of Swords, may seem like a negative card, but with all "twos" in the deck it gives balance or suggests a balance. The decision you make may be weighed carefully.
As mentioned, the woman in this card is intuitive, she represents YOU, so this is a sort of warning that you need stronger or better balance in your intellectual life. Your body, may not be following what your mind and spirit tell you.
You need to take a break from your usual way of thinking, so that you can begin to consider alternative ideas and viewpoints. You also need to be very diplomatic and weigh up the pros and cons of both options that are available to you, and to consider that there may indeed be another way around the problem. You need to compromise or let things stand as they are.
Making a compromise with yourself may be the best thing you can do, because letting things stand as they are will not give you the fulfilment or answers you are looking for.
---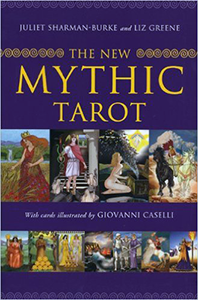 From the time of its first publication in 1986, The Mythic Tarot has sold over a million copies in dozens of countries. Now, for this twenty-fifth anniversary edition, the text has been revised, brought up to date and the deck completely reillustrated by internationally renowned artist, Giovanni Caselli.
The New Mythic Tarot brings together all the elements that made the original version such a necessary deck for all tarot enthusiasts―a deck that depicts the gods and goddesses, heroes and heroines of the Greek myths and a book that helps the reader explore them as familiar archetypal characters, whose experiences mirror the shifts and patterns of daily life.
This fully revised and updated edition of one of the few true classic book and card tarot kits breathes fresh life into this standard work and will be welcomed by long-time devotees and new fans alike.
---
---
Sessions
---
Are you looking for a little clarity? Do you need a boost or some guidance?Get a special Tarot card reading with me, a simple 5- card spread can provide you with the past, present and future possibilities you have at your fingertips.Initial reading is $25, we can chat, email or speak on the phone, just click on my pop up chat button and we can chat. Or leave a message and I'll get right back with you!
Check out my book: "Gypsy Wisdom and Ancient Magic for the Modern Witch."
Visit my website Ask Cristina!
Or read more of my articles here on Psychic Scoop.
I am available for live chat or phone sessions and look forward to speaking with you. Please email me to schedule an appointment or leave me a message below. I will get back with you within 24 hours.

Comments
comments