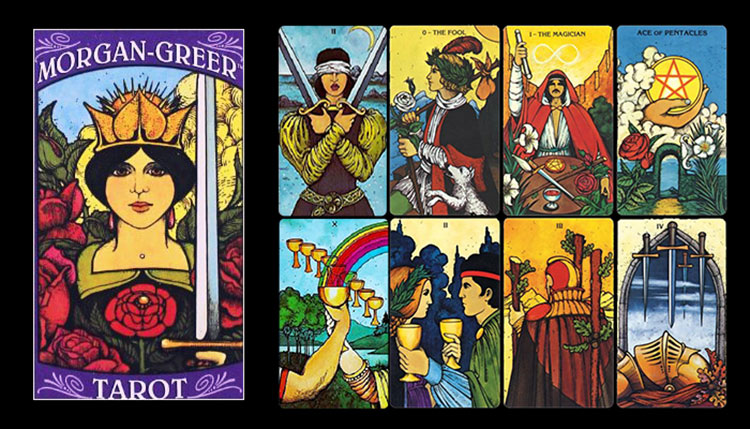 Tarot Card of the Week: May 30, 2016-June 5, 2016
Ace of Swords
If there is something you need to tackle this week, make sure you have your facts straight first.
The Ace of Swords — this version from the beautiful Morgan Greer Tarot — denotes thoughts, mental agility and the use of these things in your life.
It may be that you are trying to decide something and need to weigh up both sides of your decision to see what options you have or it may be that you are "hit" with a new idea or thought and want to get it off the ground before the momentum leaves.
Either way this is a great time to flex your mental agility and perhaps put some of it to the test. If there is anything you have been putting off that requires concentration on your part then you may that that comes more easily for you this week.
You may be quite surprised with what you come up with as the image of the sword in this card looks so solid and stable. As it cuts its way through the crown you can see there are two different versions of greenery being shown.
On the left is a rather bushy branch with small white flowers and a red rose whilst on the right is a frond with a white rose which basically covers a lot of plants when you come to think of it.
This is rather as it is for you this week. You may start with one idea early in the week but it can take you in a totally different direction and by week's end you find that that idea has shaped itself, grown and reshaped itself several times over until you are ready to take it in your hand (like the sword) and mold it into whatever you desire.
Use this time well for tackling mental problems or obstacles such as this that you may be experiencing… you never know how they will change.
.
---
This week's card, Ace of Swords, features the Morgan Greer Tarot by Susan Gerulskis-Estes (Author), Lloyd Morgan (Creator) and Bill F. Greer (Illustrator). Published by US Games.
The Morgan-Greer Tarot was created by artist Bill F. Greer, under the direction of Lloyd Morgan.
Susan Gerulskis-Estes also wrote a companion book: The Book of Tarot: Illustrated with the Morgan-Greer Tarot
This deck was first published in 1979 by Morgan Press.
I am available for live phone, Skype or chat consultations in 10-, 30- and 60-minute increments. I am located on the beautiful mid north coast of New South Wales in Australia. I am on AEST.
I am available for live phone and chat sessions at a per-minute rate or through Click4Advisor. Or if you prefer a flat rate session, I am available via phone (AUS callers only), chat or Skype through PayPal. My rates and chat buttons are available on my sidebar on the right.
Please email me to schedule an appointment if you choose one of the PayPal options or if you do not see me live. You can also add me to Skype:
» Get Skype, call free!
Want to read more articles like this? Visit my website: Ask the Astrologers
You can also read more of my articles right here on Psychic Scoop.
I am an international psychic with an extensive client base and also write articles and horoscopes for several psychic sites. My readings usually focus on the present and immediate future but also look at the past to see where the problems you are facing right now have originated.
This can help you in finding your best way forward as it can show you how to change patterns in relationships and take control again.
I am available for skype, chat and phone sessions, offering a variety of payment options. Learn more about me and schedule a session with me through my
Psychic Scoop
profile page.
Latest posts by Chrisalis (see all)
Comments
comments