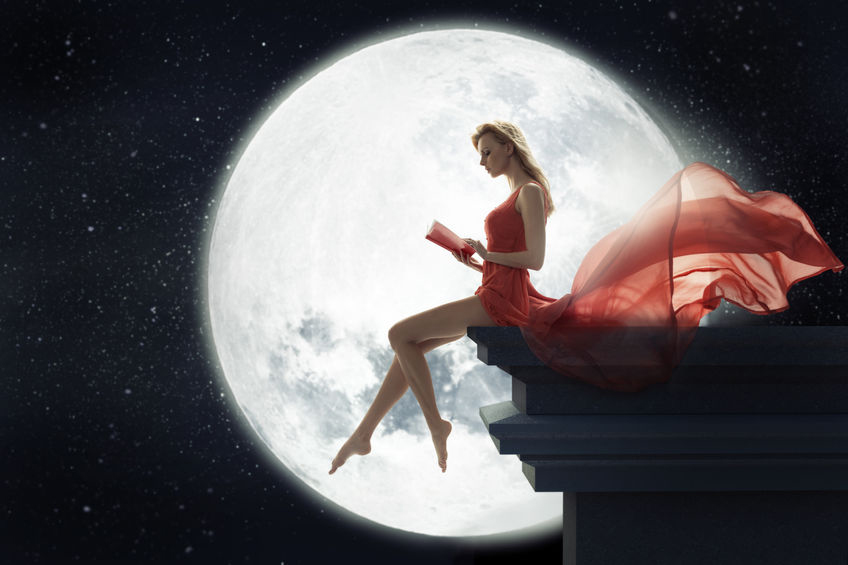 It's a full moon, a time to release the old and unwanted. What will you release tonight?
A bright, full moon has been the object of awe, worship, and intrigue among ancient civilizations for thousands of years and even today people believe in the power and magic of the moon. This year on Sunday, September 27, the closest full moon to the earth will dazzle the night sky, along with an eclipse, so a super whammy for believers in moon magic.
It is tradition among Pagan practitioners to celebrate a ritual called Esbat Rite during a super moon. Esbat, loosely translated means "frolic joyfully." Esbat is celebrated as a way to release the old, embrace the new and be thankful for what you have.  In this practice a coven of believers or a solitary practioner cast a circle and dance by the light of the moon. I suppose if the weather is good, it would be fun to frolic at the light of the moon, and eat "cake and ale" which is part of the ritual NeoWiccan covens use to thank the Gods for their blessings.  Cakes are usually cookies prepared in the shape of crescent moons, and the ale can be alcoholic or it can be apple cider, juice, or even water.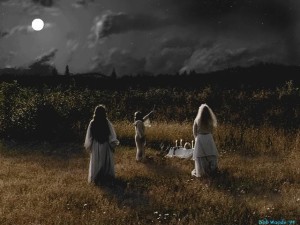 This ritual involves a lot of spoken prayers and merry making, but for those of us who are not pagan we can still enjoy the sky and the Super Moon and meditate on what we want to release and attract into our lives.  It's not that the moon has any special magic, it's your connection to nature and spirit that creates what you want, or helps you accept what is, so you can move on with your life.
Negative energy can attach itself to us in a variety of ways. A coworker could cause you to feel negative, or a relationship may have put you in a negative low. Even cleaning your house or office can help rid you of unwanted negative energy. Every home and work space should be cleared periodically. It is impossible to say exactly how often, as it depends on your situation. So you may want to use the super moon event as a time frame to clean up an office, or old jewelry or antiques. Dusting while you say, "negative energy be gone" is a good habit to get into whether it's a full moon or not.
If you feel the need to release someone in your life or their negative words from you mind, then you can erase that by sitting quietly during this Super Moon and just visualizing the light of the moon washing away the negative energies. Keep yourself open, and listen to your inner voice, it can help you SEE what steps you should take in a relationship. Whether you should leave or stay.
Once you release all negative energy, take a moment to congratulate yourself on how far you've come. Look at your blessings and send a prayer of gratitude up to the Moon Goddess, the Universe or God. Then start to visualize or contemplate what you really want in your life, and how you will go about manifesting that into your reality. Accept the flow of positive energy as it washes over you.
And yes, have a cookie, as soon as you stop reading this article you'll feel better. And you'll remember you don't believe in any of this "fate" or super moon crap. You are in control of your own life. Remember? Here take a cookie I promise by the time you are done eating it, you'll feel right as rain. (paraphrased from the movie the Matrix). And if you don't have cookies, try out the following Esbat cookie recipe.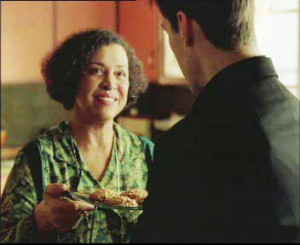 Almond Crescent Cookies Recipe
Yield:

Makes 2 1/2 dozen cookies
Ingredients
1 cup of butter, room temperature
2/3 cup of sugar
1 teaspoon of vanilla extract
1 teaspoon of almond extract
2 1/2 cups of flour
1 cup of almond flour (can substitute ground almonds*)
1/4 cup of powdered sugar for sprinkling
*You can use slivered, blanched almonds and grind them up, but you will have a very crumbly, hard to work with dough. It'll still taste good though.
Method
1 Cream the butter and the sugar together until light and fluffy. Add the extracts and mix.
2 Add the flour and almond flour. Mix thoroughly.
3 Take generous tablespoons of the dough (it will be slightly crumbly) and roll it into a small ball, about an inch in diameter, and then shape into a crescent shape. Place onto parchment paper and bake at 350°F for 15-20 minutes or until a light golden brown.
4 Dust with powdered sugar.
For added decadence let the cookies cool and dip one end of them into some melted chocolate, then let the chocolate hard. From simplyrecipes.com 

Are you looking for a little clarity? Do you need a boost or some guidance?
Get a special Tarot card reading with me, a simple 5- card spread can provide you with the past, present and future possibilities you have at your fingertips.
Initial reading is $25, we can chat, email or speak on the phone, just click on my pop up chat button and we can chat. Or leave a message and I'll get right back with you!
Check out my book: "Gypsy Wisdom and Ancient Magic for the Modern Witch."
Visit my website Ask Cristina!
Or read more of my articles here on Psychic Scoop. 
I am available for live chat or phone sessions and look forward to speaking with you. Please email me to schedule an appointment or leave me a message below. I will get back with you within 24 hours.
---
Comments
comments