Tarot of the Week – May 22 – May 28, 2017
Queen of Pentacles
This week we explore the world of the Mystic Faerie Tarot. These sweet cards have a mystic earthy feel to them.
Fairies seem to be appropriate for spring when all is in bloom, and the deck depicts a certain mystic glow of light that represents fairies perfectly. From the deck, we pull the Queen of Pentacles, your tarot card of the week.
The Fairy Queen or Queen of the Fairies was a figure from folklore who was believed to rule the fairies. Based on Shakespeare's "A MidSummer Night's Dream," in English-speaking cultures, she is often named Titania or Mab.
Titania was a woman to contend with, furiously loyal and protective, she embodies what all women are with that natural tendency to protect the most vulnerable among us. As you can see she is contemplating the great abundance around her.
She lacks for nothing, yet she sits alone contemplating wondering how she can make her world a better place. She is in charge of her dominion and all around her, and by sheer force of will, and hard work, she maintains a beautiful home and kingdom around her.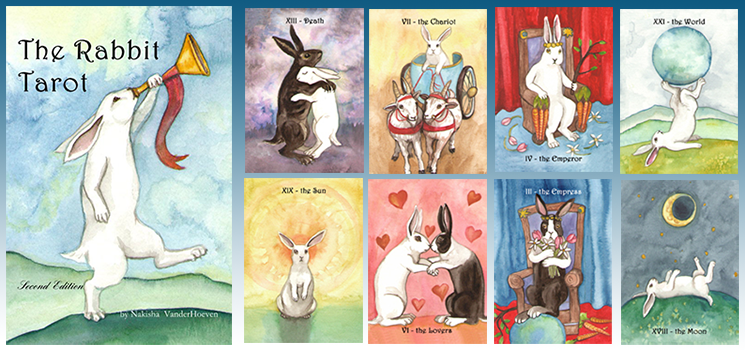 Tarot Card of the Week: May 15- May 21, 2017
 Seven of Tulips
If you aren't careful with what you are doing this week, you may just inadvertently make a huge mistake.
If you have papers to sign, contracts to read over, etc make sure you do so twice and don't sign anything that you don't understand.
The Seven of Tulips — (the Rabbit Tarot's version of the Seven of Cups) can be a card of confusion. It can also show that you are away with the fairies somewhat and not completely grounded. It can see you putting faith into empty promises, or can turn wishful thinking into later regrets.
Here we see a cute little rabbit picking pink tulips whilst at the same time not looking at what she is doing and also looking for all the world as if she has her head in the clouds (literally).
The best that can be said is that if there is a middle ground or middle of the road stance for you to take on something today then do it. Don't rock the boat and don't go pushing into any arguments that you don't have any right to be in.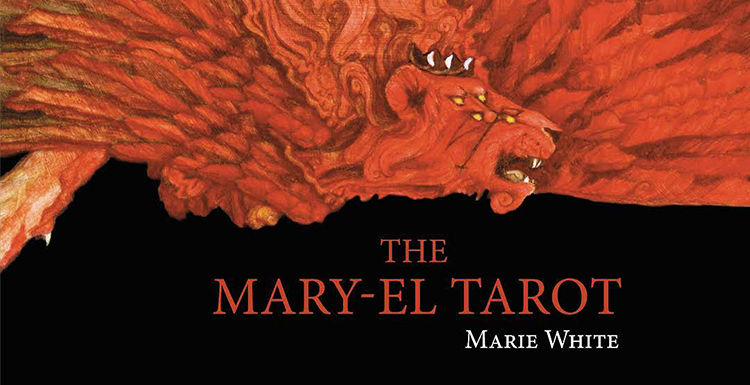 Tarot Card of the Week: May 1 – May 7, 2017
Ten of Wands
You may have to muster up the strength, determination and fortitude this week to do what must be done, even if the task before you seems daunting and overwhelming.
The Ten of Wands — this version from the stunning Mary-el Tarot — is all about rising to the occasion and taking care of business, no matter how difficult or arduous that may be. It's about stepping up to the plate and shouldering responsibilities — or like the figure in this card, moving through hell or high water to get the job done.
What do you think would happen if the man and his were to slow down or stop in their tracks? They'd be consumed by the flames that are already engulfing them. They'd surely perish on the spot.
The idea here seems to be that once the task is started there's no turning back. The rider pledges his commitment (notice his hand held over his heart) and the horse gathers speed.
He may have taken on more than he thinks he can handle, but he's not going to throw in the towel. This is the essence of the Ten of Wands. Upholding your responsibilities may be more than you bargained for, but that doesn't excuse you from doing them.

Tarot Card of the Week:  April 24 – April 30, 2017
Nine of Pentacles
Nine of Pentacles, the card of the week, comes from one of my favorite decks, the Deviant Moon Tarot by Patrick Valenza.
The deck was given to me as a gift. At first look of the box, I wasn't sure I would like it but felt a pull to open it and now I use it a lot in my readings.
If you should be lucky enough to have the Nine of Pentacles come up in the present or future of your reading, it can mean something good in a monetary or material situation is coming your way.
Looking at the picture on the card, you see an independent and confident woman taking a walk with her little pet. There are pentacles dropping down around her indicating good things are coming to her.
The Nine of Pentacles represents The Lord of Material Gain, the element of Earth, the direction of North and the Season is Winter. The Zodiac signs are Taurus, Capricorn and Virgo. Dark grapes are the herbal associated with the nine of pentacles. Dark grapes are good for your blood, high in iron and the leaves are often used in astringents.This card usually signifies monetary / material gains. It can come from unexpected sources like an inheritance, winnings, settlements or monetary gifts.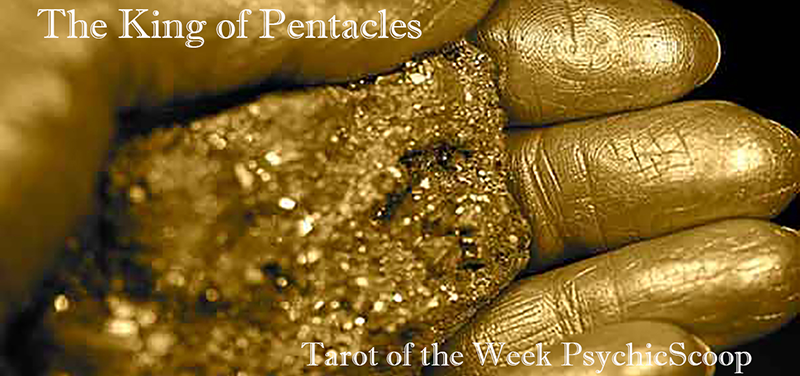 Tarot Card of the Week: Apr 17 – Apr 23, 2017
King of Pentacles
This week I present you with one of my favorites cards in the Mythic Tarot Deck, the King of Pentacles. The card tells the story of King Midas, who could turn everything he touched into pure gold.
He'd done a favor for the Goddess Dionysus, and she granted him any wish he wanted. Without thinking, he asked that everything he touches turn to gold. Unfortunately, the dream came true.
His food, his servants, his dogs, everything turned into gold. Including his own beloved daughter. He begged the Goddess to take the gift back. She did by having him wash is hands in a magical river and everything went back to how it was.
The moral of the story? He was already a wealthy man, no golden touch was needed for true happiness. The King of Pentacles holds a coin representing money. He sits on his throne, decorated with the heads of golden goats, behind the throne we see his servants and a pile of money at his feet.
The goat which represents Capricorn in the background tells us the King is a planner and brilliant strategist.

Tarot Card of the Week: April 10 – April 16, 2017
King of Swords
There is strength in words this week, both written and spoken. The King of Swords has a very quick mind. He is intellectual, clever and in a state of activity.
This week you may find that you are constantly on the go, and it won't be because of the full moon energy. You have so many things to take care of that you don't get a chance to sit down. As soon as one thing I finished something else pops up to take your attention.
As can be seen from this image in the Connolly Tarot's version of the card, you have the capacity, imagination and intellect to see your ideas through but you may find there are so many things happening at once that you overlook something.
A list may help with this as you seem to be so inundated that what you miss is something that is needed and shouldn't be forgotten. If you keep in mind that Mercury has just turned retrograde, on the April 10th, then you get the idea of what you are up against.
So much to do, so little time to do it in and all the while you are fighting against communication mix ups.
Tarot Card of the Week: April 3 – April 9, 2017
Six of Cups
With Venus retrograding back into Pisces this week, dreams of yesterday and the past may be with you, as you find yourself lost in nostalgia and of times gone by.
An old friend or lover may come back into your life and reconnect with you.  Alternately you may feel the urge to reach out and touch someone from your past.
The Six of Cups — this version from Charissa Drengsen's Steampunk Tarot — speaks of memories from the past being triggered today. Possibly by an event — a song that reminds you of days gone by, a scene from your childhood, or a scent that comes wafting back and conjures up feelings of nostalgia.
Fun times and playfulness abound for you, and children may figure prominently for you with thoughts of your own childhood being triggered by their presence.
You will feel light hearted as if you don't need to worry about anything and in doing so you can throw from you worries that have been burdening you lately.