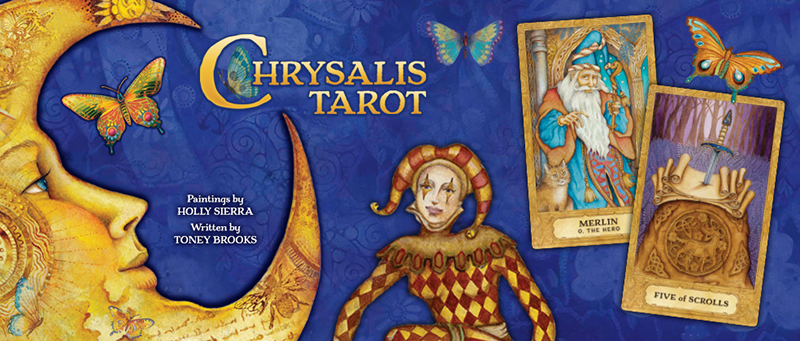 Tarot Card of the Week: May 2 – May 8, 2016
Two of Spirals
This week's card is the Two of Spirals (Two of Pentacles) from the beautiful Chrysalis Tarot by Holly Sierra and Toney Brooks.
Here we see a wise mother bird patiently assessing her choices and options as she builds two nests in the crux of a fruiting Mulberry tree. Which one will she choose to build up? Which one is in the best location for her eggs?  Each nest has a spiral moving in opposing directions indicating that her choices are about contrasts.
The two of spirals is all about choices, and how we balance our needs where there are conflicting choices or options. For example; will we pour ourselves into work and hit some over-time hours, or do we spend more time with the kids? Do we engage with lots of social activities and parties or do we take some much needed down-time for ourselves?
Fortunately, just like mama-bird, this week will offer you an opportunity to not be so darned TORN about the choices ahead of you and you will see ways in which you can balance the various elements of your life.
Often this balance indicates that it's time to mix emotional or spiritual needs with practical and financial considerations.This might mean that you're called to work on a passion project, but that the bills still need to be paid. Or perhaps you're in such a swirl of activity or creativity in your work that you will need to pay special attention to your calendar and day planner so you can meet all your commitments with everyone .. including at home.
It's time to remain open to those forces or things in your world that are in the process of change. Change is positive even though it might not always  seem like you have all the information you need to make an informed choice right now.
Two of Spirals indicates that you can take your time, and you use your wisdom and patience (symbolized here with the Mulberry tree)  so you can stay informed and weigh out the  pros and cons of the various options in front of you.  You can be centered and do your best to stay  flexible as you go with the flow.  What's happening now is meant to be positive change for you ultimately, and if you balance your needs and priorities, you can't go wrong.
The card used for this week's Card of the Week — Four of Mirrors — comes from the Chrysalis Tarot by Holly Sierra and Toney Brooks.
This deck was published by US Games and is also available for purchase directly through the Chrysalis Tarot website and through Holly's Etsy storefront.
Here's Holly's Facebook page and the Chrysalis Tarot Facebook Fan Page. 
This deck is also now available for download for IPhone, IPad and Android devices through the Fool's Dog website.
Used by Generous Permission. 
---
© 2016 Willow Brilliance in Sight/Psychic Scoop
Check out my website and BLOG for more goodies!
I'm available for personal readings and chat sessions.
Please email me or chat with me to schedule an appointment for a 10, 15, 30, or 60 minute session.
you can visit with me via my chat messenger that anyone can use.
Please let me know your time zone and the times most convenient for you.
Want to read more articles like this? Visit my website:Brilliance In Sight.
You can also read more of my articles here.
---
Willow is a natural psychic who's been studying and practicing metaphysics for over 25 years.
In addition to working with local clients and students, she is able to consult with clients all over the world. She is also phenomenal artist, writer and teacher who contributes to numerous websites.
She is available for chat and phone sessions, offering a variety of payment options. Learn more about her and schedule a session with her through her
Psychic Scoop
profile page.
Comments
comments