Here is the Psychic Scoop Weekly Astrology Forecast for the week of Jun 18, 2017 – Jun 24, 2017:
This week starts with a Saturn / Mercury opposition on Sunday, just as the Sun sextiles the North Node and Uranus. The Sun's sextile to both Uranus and the North Node brings in the Uranus / North Node trine (which was partile on Saturday). And that's a good thing since the Saturn / Mercury opposition can be a bit of a downer or a rain-on-your-parade aspect.
Since the Nodes are always polar opposites, the Sun will also automatically trine the South Node. These aspects between the Sun and Nodes can bring people in that you're working through past-life karma with (South Node) or creating new karma with (North Node). Of course these are often one and the same.
Pay attention to new people coming in during this time, as well as interactions that trigger you emotionally. These are harmonious aspects (trine and sextile) that should make for pleasant interactions with others, as well as opportunities to work together.
The sextile to Uranus is great for flying your freak flag in a socially acceptable way. If you think that's an oxymoron, consider that the Sun is tied to your life force, will and self-expression, while Uranus is tied to thinking outside the box. It is associated with being progressive and innovative, as well as broadening your range. This aspect encourages you to march to the beat of your own drum and express your own unique individuality in ways that inspire rather than shock.
On Monday, the Sun squares Chiron. This aspect can create a need to remedy an imbalance between the desire for self-actualization (the Sun) and the urge for self-sacrifice (Chiron). Heading up a volunteer program or taking part in something meaningful in community are good ways to actualize this transit.
Mercury sextiles Uranus and the North Node — and also squares Chiron — on Tuesday. Starting with the sextile to Uranus and the North Node — keeping in mind that this will also pull in the Mercury trine to the South Node — we can expect to have encounters with others that open us up on this day to new ways of thinking.
These encounters may be karmic in nature (due to the aspect to the Nodes), and will definitely be innovative and thought-provoking. As Uranus is the higher octave of Mercury, this transit is great for brainstorming and thinking outside the box. It brings insight and awareness to the surface. It's all about radical ideas and flashes of brilliance.
Both of these planets are moving through innovative signs. And because the sextile links them together harmoniously, you can take advantage of this configuration by tapping into your own creative genius. It's an excellent transit for negotiating change, especially with respect to group activities and community or humanitarian efforts.
The square to Chiron is a little trickier. It can bring feelings of guilt and regret to the surface. You may be questioning whether you've done enough to help others or whether you've said the right things. You may also be more gullible than usual so be careful you don't fall prey to some undeserving culprit's sob story.
Also on Tuesday, Venus sextiles Neptune. This is always a nice aspect, since Neptune is the higher octave of Venus and these two planets "holding hands (sextiling) one another emphasizes their respective influences. The sextile aspect relates to assistance and cooperation. The Venus / Neptune combination is often present in relationships that are based on spiritual, creative or altruistic notions.
This transit is excellent for tapping into your psychic abilities and can also be instrumental in creating soul connections with romantic interests. There are unconditional love aspects to the Venus / Neptune sextile but be careful: it's also associated with escapism and self-deception, such as relationships where neither party sees the other one clearly. This transit can also manifest as co-dependency or escapism.
On Wednesday, the Sun and Mercury both enter Cancer and form a conjunction later in the day. The Sun moving into Cancer marks the onset of the Summer Solstice (and longest day of the year) in the Northern Hemisphere, and the Winter Solstice (and shortest day of the year) in the Southern Hemisphere.
Mercury in Cancer can see you taking a trip down memory lane. Unexpected reminders of the past — songs playing on the radio, sights and sounds and scents from your childhood, even dreams of people you haven't seen in years — can make you nostalgic and thinking about the past.
The Sun / Mercury in Cancer combination is highly sensitive though, so make sure you're not making mountains out of molehills, reading too much between the lines or taking things too personally during this time. It can't hurt to reach out to someone from your past (especially family members you haven't kept up with as much as you'd like) and let them know they've been on your mind.
Thursday's Gemini Moon trines Jupiter and squares Neptune. This is an excellent setup for light-hearted interactions with others; it's good for taking in a concert or movie with friends.  Just be careful if you're planning on imbibing as the Moon /Jupiter portion of this configuration is prone to over-doing things, while the Moon / Neptune portion may not know when "enough is enough."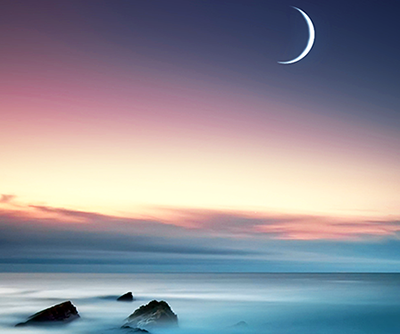 This month's New Moon takes place in Cancer at 10:30 pm on Friday (or 2:30 am UT on Saturday).
The New Moon each month brings opportunities to start anew, and this month with it falling in Cancer — the sign associated with home, family, security needs and roots — the emphasis is on relationships with those who are nearest and dearest to our hearts.
The Sabian Symbol for this New Moon — at 2° Cancer 47 — is "An arctic explorer leads a reindeer through icy canyons."
This speaks of relying on our own hardships and experiences to guide others through the challenges they face in their own lives.
We finish off the week with Venus trining Pluto on Saturday. This is an urge to merge transit that can see us longing for meaningful connections with others. Whether these are romantic / sexual in nature or just significant in terms of shared interests and ideals remains to be seen. This transit brings with it elements of magnetism and charisma so be prepared to make an impact on those you encounter along the way.
That's it for now. See you next week!
---
Here's this week's Astro Calendar. Click on it to view it full-sized.

---
Thinking about learning Astrology? I highly recommend Stephen Arroyo's Chart Interpretation Handbook and Demetra George's  Astrology for Yourself.
Want to read more articles like this? Visit my website: Ask the Astrologers
You can also read more of my articles right here on Psychic Scoop.
Weekly Astrology Forecast
Jun 18, 2017 – Jun 24, 2017:
Sessions

I am available for live phone, Skype or chat consultations in 30 and 60 minute increments at the rate of $3 per minute for 30 minute sessions and $2.50 per minute for 60-minute sessions. I am also available for phone or chat through Click4Advisor at $3.99 per minute.
Please note that I do not offer free readings and these are the lowest rates you will find me at online. I am located in the US, in the Eastern time zone.
Feel free to pop into my chatroom if you see me available live, or email me to schedule a session if you don't. PayPal and Click4Advisor links are accessible through the sidebar on the right.
[skype-status skype_id="melodie.sheppard" user_name="Melodie" button_theme="addme_classic" button_function="add" use_voicemail="on" use_getskype="on"]
Comments
comments