Here is the Psychic Scoop Weekly Astrology Forecast for the week of Dec 18, 2017 – Dec 24, 2017:
As we move toward the Winter Solstice this week, we'll have a New Moon (in Sagittarius), two planets (the Sun and Saturn) changing signs, and one planet (Mercury) changing direction.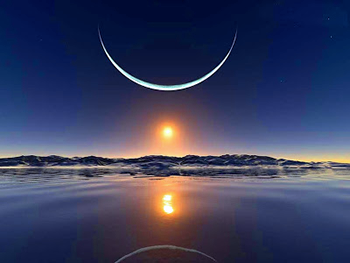 Starting with the New Moon on Monday: this occurs at 6:30 am (UT) at 26 Sagittarius 31. It's forming several close aspects, as in a trine to Uranus, square to Chiron and conjunction with Saturn. It's also right smack dab on the degree of the Galactic Center.
With this is mind, it seems appropriate that the Sabian Symbol for this degree is: "The sculptor's vision is taking form." It speaks of offering our intentions up to the Universe and working toward making them manifest.
This is a wonderful symbol for the December New Moon as it paves the way for putting real thought into New Years Resolutions, so that this time you can see them through.
On Wednesday, Saturn leaves Sagittarius behind and moves into Capricorn, for the first time in just over 29 years. Saturn rules Capricorn and is most comfortable in this sign. At the same time it's given a bit of a bad rap, with so much focus on the negative aspects of these archetypes. Saturn is said to represent challenges, obstacles, limitations, restrictions and delays. Capricorn is painted with a similar brush.
It's all about hard work, dedication and perseverance. And while none of that sounds like a picnic, there are some really wonderful Saturn in Capricorn qualities that tend to get overlooked. Things like wisdom, maturity, soulfulness and simplicity. As we move ahead through the Saturn in Capricorn transit (for the next 2-1/2 years) these are the things we all want to be focusing on and fostering in ourselves.
Also on Wednesday, Venus trines Uranus and squares Chiron. Starting with the trine, it's a good time to change things up a bit, especially in how you present yourself to the outer world. Remember that Venus is in Sagittarius (the sign related to personal expansion and growth) and Uranus is in Aries (the progressive, forward thinking maverick) making this about putting your best foot forward rather than blending in with the crowd.
The square to Chiron is a little trickier. It's more about challenges related to establishing clear boundaries and identifying personal values. You may struggle with figuring out what it is you really want and feeling deserving of it. This aspect can bring martyring tendencies to the surface. Causing you to regret or feel guilty about what would ordinarily make you feel good. And prompting you to make sacrifices that you're likely to resent later on.
On Thursday, the Sun joins Saturn in Capricorn, marking the onset of Winter (the Winter Solstice) for those in the Northern Hemisphere. From an astronomical perspective, this is the time when the Sun reaches its southernmost declination and manifests as the shortest day and longest night of the year. (It's exactly opposite for those in the Southern Hemisphere).
Astrologically it represents the Sun (ego, will, Self, etc) entering the sign of the Sea Goat, the archetype known for its ability to rise from the bottom of the deepest sea to the top of the highest mountain. As we tie up the last few days of the year, we may be all thinking "thank God this one is almost over" and making plans to do more, better and bigger next year. That's the Sun in Capricorn, especially with the conjunction to Saturn.
By this time the Moon will be in the last degrees of Capricorn as well, but is void of course and moving into Aquarius at around 2:30 am, where it will remain for all of Friday and most of Saturday. Aquarius may be quirky, but it's a nice, sociable weekend Moon placement, as it forms aspects to both Mercury, Jupiter and Venus before it's through.
The sextile to Mercury is good for casual chit chat and friendly banter so don't expect to go too deep, especially since Mercury is still retrograde. The sextile to Venus adds elements of romance and flirtation. And while the square to Jupiter can be a barrel of laughs, it's also known to overdo things so make sure you've got a designated driver if you're going out on the town.
On Saturday, Mercury goes stationary direct at 13 Sagittarius 04. It will still be several days before Mercury crosses its shadow point (on January 11th) and fully leaves the retrograde behind. But it officially ends on Saturday.
After having been retrograde for the past few weeks, this change in direction can be a welcome relief. Because it's in Sagittarius — where because of the retrograde it will have spent more than 6 weeks by the time it's through — it invites us to expand our consciousness and to start thinking more about global issues and concerns.
That's all for now; see you next week!
---
Here's this week's Astro Calendar. Click on it to view it full-sized.

---
Thinking about learning Astrology? I highly recommend Stephen Arroyo's Chart Interpretation Handbook and Demetra George's  Astrology for Yourself.
Want to read more articles like this? Visit my website: Ask the Astrologers
You can also read more of my articles right here on Psychic Scoop.
Weekly Astrology Forecast
Dec 18, 2017 – Dec 24, 2017
Sessions

I am available for live phone, Skype or chat consultations in 30 and 60 minute increments at the rate of $3 per minute for 30 minute sessions and $2.50 per minute for 60-minute sessions. I am also available for phone or chat through Click4Advisor at $3.99 per minute.
Please note that I do not offer free readings and these are the lowest rates you will find me at online. I am located in the US, in the Eastern time zone.
Feel free to pop into my chatroom if you see me available live, or email me to schedule a session if you don't. PayPal and Click4Advisor links are accessible through the sidebar on the right.
[skype-status skype_id="melodie.sheppard" user_name="Melodie" button_theme="addme_classic" button_function="add" use_voicemail="on" use_getskype="on"]
Comments
comments