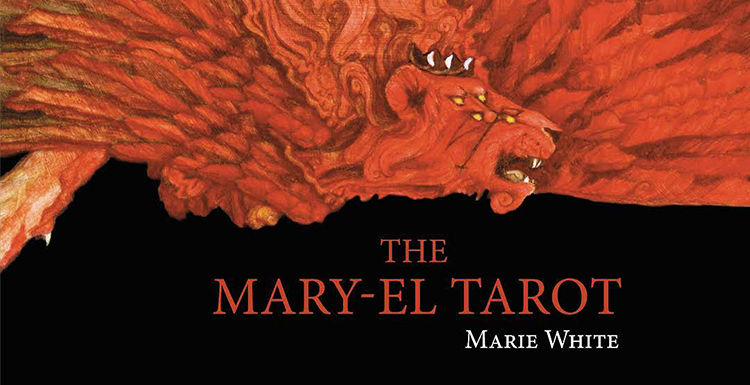 Tarot Card of the Week: Jan 11, 2016 – Jan 17, 2016
Two of Swords
This week's card — the Two of Swords from the beautiful Mary-el Tarot — speaks of striving for equilibrium and trying to balance the opposing forces in your life.
You may feel like you're being pulled in two different directions, or you may be struggling with an important decision that has been weighing heavily on your mind. The current Mercury and Jupiter retrogrades may also be playing tricks on you, causing you to feel scattered or less able to focus on what's important.
The Two of Swords can refer to an impasse or stalemate that's more likely than not a result of your own indecision.
It can refer to a pivotal moment in time where you recognize that the options before you are equally appealing (or terrifying) and that whatever decision you make will have a huge impact on your life.
In this respect it can refer to inaction and immobility. Sometimes this is due to fear: "What if I don't have all the facts?" or "What if I make the wrong decision?" But it's just as often related to a desire to not have to choose at all.
You may wish to "rise above" all of the turmoil that is festering beneath you, but as with the imagery depicted in this card, you won't be able to completely escape it.
The juxtaposition of opposing forces in this card (moth vs. snake, day vs. night, life vs. death, hibernation vs. metamorphosis) reminds us that there is a brief moment in between. And it's in that moment — the stillness and the presence of mind that occurs only there — where clarity, perspective and understanding are born.
You'll want to work on trusting your instincts this week and following your intuition. This card requires you to access both hemispheres of your brain, whether that relates to creative, practical or even spiritual consideration
As difficult as it is to balance these competing desires, you may find yourself at an impasse. It's hard to feed one set of urges without feeling like you're neglecting the other.
Whether you feel yourself being pulled in two different directions — between head and heart, for example — or just need a break from the chaos surrounding you, this card encourages you to take a step back, be still in the moment and reflect on what you want, removed from any external distractions.
---
This week's card — Two of Swords —  is part of the The Mary-el Tarot series by Marie White, published by Schiffer Publishing.
Used by generous permission. Original art, as well as full-sized prints, are also available on her website.
Please also check out and "like" this deck's Facebook Fan page. 
Thank you Marie!
---
Sessions

I am available for live phone, Skype or chat consultations in 30- and 60-minute increments at the rate of $3 per minute for 30 minute sessions and $2.50 per minute for 60-minute sessions payable through PayPal. I am also available for phone or chat through Click4Advisor at $3.99 per minute.
Please note that I do not offer free psychic readings and these are the lowest rates you will find me at online. I am located in the US, in the Eastern time zone.
Feel free to pop into my chatroom if you see me available live, or email me to schedule a session if you don't. PayPal and Click4Advisor links are accessible through the sidebar on the right.
---
Want to read more articles like this? Visit my website: Ask the Astrologers
You can also read more of my articles right here on Psychic Scoop.
I am a professional astrologer and spiritual advisor with more than 30 years' experience. I am proficient in astrology, tarot, numerology, the enneagram, feng shui, and many other mystery schools. I am available for chat and phone sessions, offering a variety of payment options. Learn more about me and schedule a session with me through my
Psychic Scoop
profile page.
Comments
comments