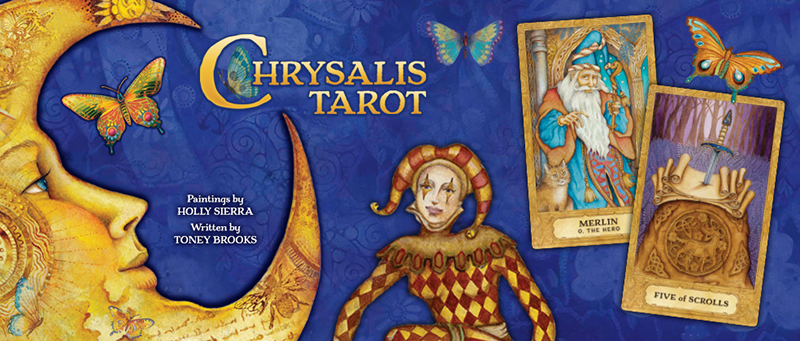 Tarot Card of the Week: Sept 19 – Sept 25, 2016
Six of Scrolls
This is a time when wisdom meets hopes and dreams. The elephant in this card portrays that which is ancient and wise and the knowledge which a person like this can bestow on you.
Keep your ears open this week for one such as this because it seems as if they have something very wise and nurturing to give you in the form of words and knowledge.
There is almost a spiritual connotation to this card — the Six of Scrolls from the beautiful Chrysalis Tarot — as the colour purple surrounds the elephant (giver of wisdom and knowledge).
You may find that you go within yourself to draw out that which is wise and strong… that which you always knew. With this knowledge a transformation takes place within you.
The point where the woman in this card touches the elephant's forehead with her own is where the 6th chakra lays. This is where psychic information flows in and out and relays that the knowledge and wisdom you attain does not need to be from books but is simply "known" by you.
The crescent moon and stars in the sky speak of mystery and mysticism as well as the turning of the ages.
The Six of Scrolls — this deck's version of the Six of Swords — encourages you to seek wisdom and clarity from within,. You may be thinking of taking a meditation class or psychic course. If these are not for you art, writing or anything creative can also give you the knowledge and wisdom you are looking for as it is already within you.
---
This week's card — the Six of Scrolls — comes from the Chrysalis Tarot by Holly Sierra and Toney Brooks.
This deck is available for purchase from Amazon, as well as directly through the Chrysalis Tarot website and through Holly's Etsy storefront.
Here's Holly's Facebook page and the Chrysalis Tarot Facebook Fan Page. 
This deck is also now available for download for IPhone, IPad and Android devices through the Fool's Dog website.
Used by Generous Permission.
---
I am available for live phone, Skype or chat consultations in 10-, 30- and 60-minute increments. I am located on the beautiful mid north coast of New South Wales in Australia. I am on AEST.
I am available for live phone and chat sessions at a per-minute rate or through Click4Advisor. Or if you prefer a flat rate session, I am available via phone (AUS callers only), chat or Skype through PayPal. My rates and chat buttons are available on my sidebar on the right.
Please email me to schedule an appointment if you choose one of the PayPal options or if you do not see me live. You can also add me to Skype:
» Get Skype, call free!
I am an international psychic with an extensive client base and also write articles and horoscopes for several psychic sites. My readings usually focus on the present and immediate future but also look at the past to see where the problems you are facing right now have originated.
This can help you in finding your best way forward as it can show you how to change patterns in relationships and take control again.
I am available for skype, chat and phone sessions, offering a variety of payment options. Learn more about me and schedule a session with me through my
Psychic Scoop
profile page.
Latest posts by Chrisalis (see all)
Comments
comments