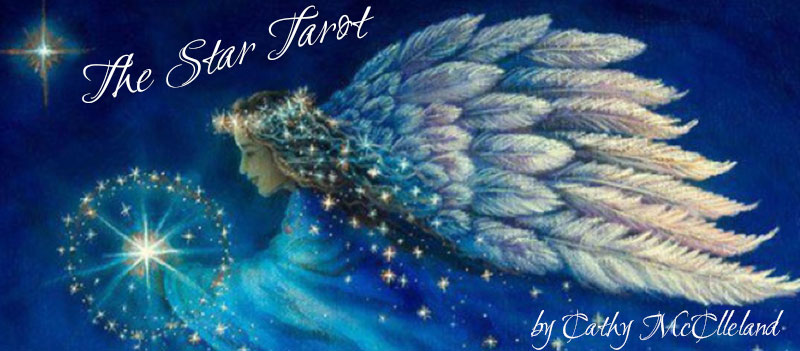 Tarot Card of the Week: Nov 28 – Dec 4, 2016
Prince of Wands
If there is something you have been aiming for and are not sure how to accomplish it, then this is the time to jump in with both feet and just go for it!
The Prince of Wands — this is the King of Wands from Cathy McClelland's Star Tarot — implies that you have many changes coming your way and you are not afraid to reach out and grab them.
There are tools around for you to use that facilitate the journey you take to bring about these changes.
The Unicorn in this card and the background it runs in front of suggests that for a while now you have not been sure what to do but you have never given up knowing that you are going to do something big.
Suddenly, the answers have come to you and your joy is written across your face for everyone to see. With this week's New Moon in fiery Sagittarius, you will see that nothing will hold you back; if anyone tries they'll have more to contend with than they realise.
Your hopes, dreams and wishes are coming from your heart today. You have the strength to see them through and the resources to back you up. You may need some further tweaking to your plan but rest assured it is a good plan and as it begins it will quickly come together as if nothing can hold it back.
It is time to come out of the darkness and spread your message across to all around you. You know exactly what you want and how to get it.
---
This week's card —Prince of Wands — is part of the self-published Star Tarot series by Cathy McClelland.
This is a 22-card Majors only deck which is sold out.
However Cathy has signed with Schiffer Publishing and is in the process of completing the deck.
Check back with Cathy on her website to see the progress of this beautiful deck!
Used by generous permission. 
---
I am available for live phone, Skype or chat consultations in 10-, 30- and 60-minute increments. I am located on the beautiful mid north coast of New South Wales in Australia. I am on AEST.
I am available for live phone and chat sessions at a per-minute rate or through Click4Advisor. Or if you prefer a flat rate session, I am available via phone (AUS callers only), chat or Skype through PayPal. My rates and chat buttons are available on my sidebar on the right.
Please email me to schedule an appointment if you choose one of the PayPal options or if you do not see me live. You can also add me to Skype:
» Get Skype, call free!
I am an international psychic with an extensive client base and also write articles and horoscopes for several psychic sites. My readings usually focus on the present and immediate future but also look at the past to see where the problems you are facing right now have originated.
This can help you in finding your best way forward as it can show you how to change patterns in relationships and take control again.
I am available for skype, chat and phone sessions, offering a variety of payment options. Learn more about me and schedule a session with me through my
Psychic Scoop
profile page.
Latest posts by Chrisalis (see all)
Comments
comments