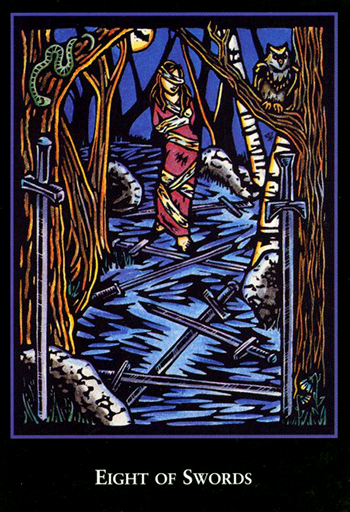 Tarot Card of the Week: Oct 17-Oct 23, 2016
Eight of Swords
This week you may need to think about your own limitations, and how you've contributed to the obstacles that stand between you and your goals.
The Eight of Swords — this version from the World Spirit Tarot — speaks of self-imposed obstacles and restrictions. You may feel powerless in your current circumstances and may be so caught up in blaming the people or events that have brought you to this that you're unable to see a way out.
You may feel like you're beating your head against a wall or like all of your efforts are being met with resistance. You may question whether the Universe is telling you to fight or to accept defeat — although neither of these is going to be the right course of action.
Although the woman in this card is bound and blindfolded, and although it may seem like there's no way out, if you look around you can see that things are not nearly as bad as they seem. She's got the light of the full moon to guide her and a path laid out before her with a clear way out. Of course she'd have to untie herself and remove her blindfold to see it too.
The Swords that are criss-crossed along the path are spaced far enough apart that she could easily step around them. The trees in the foreground are flanked by the final two swords, creating an archway that leads the way out.
None of the obstacles in this image are as menacing as they might seem. The night isn't so dark, the binds aren't tied so tight, and the swords aren't placed so perilously that she couldn't maneuver her way through. But to her they may seem overwhelming, leading her to believe that she's up against unimaginable odds.
The woman in this card has two choices: she can give in to her fears (represented by the Snake in the upper corner of the card) and remain paralyzed and immobile. Or she could reach deep within herself and access her own inner wisdom and guidance (represented by the Owl) and put those fears to rest.
Like her, you may feel like you've been blindsided by some of the challenges that life has presented. You may feel battered and bruised, or simply exhausted from fighting what seems like an impossible fight. You may have to make a choice between staying stuck in your present situation or looking for other solutions.
As always with the Eight of Swords there is a way out. It may require a bit of ingenuity — much like is seen in this card. But it mainly involves simply opening your eyes, changing your perspective and finding a workable solution.
The Eight of Swords calls for awareness, perspective and acceptance or responsibility. Only once you have achieved all three can you truly break free from the ties that bind you.
.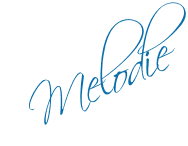 ---
This week's card — Eight of Swords — comes from the beautiful World Spirit Tarot.
Lauren and Jessica are also behind the Spanish language version of this deck: the Tarot Mistico Universal 
Lauren 'Onça' O'Leary is a career entertainer, event producer, internationally touring performer, and published author and artist with twenty years in the arts business.
She's recently completed a successful Indiegogo campaign to reprint this gorgeous deck. The reprinted deck is available now on her website the Hardest Working Woman in Show Business. 
I am available for live phone, Skype or chat consultations in 30 and 60 minute increments at the rate of $3 per minute for 30 minute sessions and $2.50 per minute for 60-minute sessions. I am also available for phone or chat through Click4Advisor at $3.99 per minute.
Please note that I do not offer free readings and these are the lowest rates you will find me at online. I am located in the US, in the Eastern time zone.
Feel free to pop into my chatroom if you see me available live, or email me to schedule a session if you don't. PayPal and Click4Advisor links are accessible through the sidebar on the right.
[skype-status skype_id="melodie.sheppard" user_name="Melodie" button_theme="addme_classic" button_function="add" use_voicemail="on" use_getskype="on"]
Want to read more articles like this? Visit my website: Ask the Astrologers
You can also read more of my articles right here on Psychic Scoop.
Comments
comments