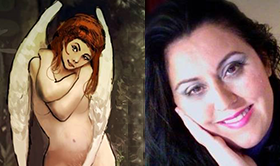 Hello and Welcome to my virtual office!
My name is Pat and I practice and live up to my spiritual values in my readings and every advice I give you.
I have very firm spiritual values and believe in practicing prayer and meditation daily, before and after each reading to access divine information and put your needs and situation in higher hands.
All your needs and wishes for love, happiness, abundance, health and the resolution of your problems, are important to me.
I believe we attract what we focus on and that we have the right and the power to reach the divine in us, our higher consciousness, and in the universe to obtain the blessings that were meant for us to receive and enjoy.
I charge for my readings, as I do live off my work and dedicate my time fully to work spiritually with my readings, but I don't charge for my healing. I give you healing during the reading and afterwards when needed free of charge.
I have been told by my previous consultants that I am very positive, helpful and healing, accurate, honest and compassionate.
I can also lead you and advising you with alternative healing techniques, and transfer that knowledge to you. I can even teach you self-hypnosis, self-programming and how to reach and hear your angels and guides.
I am a direct channel that uses mostly claircognizance *especially for the medium sessions, but also clairvoyance and clairaudience. I can also utilize tarot cards or pendulum as a way to access the information faster via online, but I can also do the reading channeling directly through my angels with no tools.
I have been working professionally more than 30 years and 10 via internet. I am fully bilingual, both English and Spanish speaking.
My specialties are angel readings and "psychomagic" healing, which I look forward to sharing with you!

Sessions

I am available for live chat and Skype readings at the rate of $3.99 per minute.
Ask me about special flat-rate fees for sessions 1-hour or longer.
You can also reach me through my personal chat page, which is easy to use and accessible 24 hours a day.

If I am not available, you can also leave me a message and I'll get back with you within 24-hours.
Please visit my website and feel free to email me to schedule an appointment.
[skype-status skype_id="whitemeiga" user_name="Pat" button_theme="addme_classic" button_function="add" use_voicemail="on" use_getskype="on"]
You can also read more of my articles right here on the Psychic Scoop website.