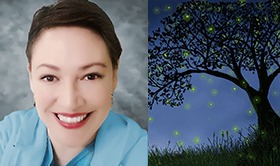 Hello!  I'm Willow  and I give unique, ethical, intuitive insight to help you focus on your own abilities to change and shape the present and future. After all, isn't it better to CREATE instead of wait?
I've given readings since 1987 alongside my work as a professional, published author and artist and I've had the wonderful opportunity to work with people all over the world; artists, musicians, psychics, healers, celebs, moms, politicians – we're all intuitive!
I love to work with relationship issues  because it's through our personal and family relationships that we find our best opportunity to open up to new levels of intimacy, love and inspiration in every issue we want to succeed in.
I  give insight on:
*relationships  (family, spouse, partner, romantic, and friendship)
* Building positive relationship to yourself and others
* artistry, creativity, and work (in career or personal growth)
* Dream interpretation/exploration of dream symbolism unique to YOU
* Resolving difficult emotions and experiences/finding the next steps
* Spiritual and personal growth
* Expanding self connection/ your own intuitive wisdom
Readings don't have to be scary or "out there".    I don't want you to depend on them, I want to encourage your empowerment by giving you real guidance that helps keep you grounded and motivated at a practical level.  Since I believe you're in the driver's seat and that you create your own destiny,  I don't deal in spells, fairy-tales, curses, or fixation on timelines.
Accurate, ethical  guidance will always keep you grounded in the here and now instead of waiting for things to happen to you.  My sessions are warm and positive, but I help you by being honest and real.
In addition to readings, I do channeled intuitive artwork that's an artistic representation of the energy I feel. I also can help you tap into your own intuition and read the art that you create.
Check out my website and BLOG for more goodies!
Sessions

I'm available for personal readings and chat sessions. Please
email me
or
chat with me 
to schedule an appointment for a 10, 15, 30, or 60 minute session.
I do readings by gchat/gmail, yahoo, and others, or via
my chat messenger that anyone can use
. Please let me know your time zone and the times most convenient for you. You can also contact me below.
Willow is a natural psychic who's been studying and practicing metaphysics for over 25 years.
In addition to working with local clients and students, she is able to consult with clients all over the world. She is also phenomenal artist, writer and teacher who contributes to numerous websites.
She is available for chat and phone sessions, offering a variety of payment options. Learn more about her and schedule a session with her through her
Psychic Scoop
profile page.
Comments
comments