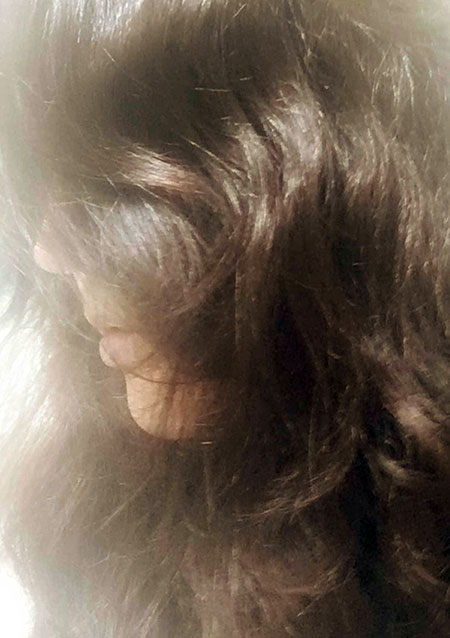 Hello 🙂  My name is Malia.  I am a natural empath, intuitive, practitioner of energy healing.  Although, there are times it seems more accurate to say I am an interpreter of vibration, feeling and color.
My journey in learning about myself and my gifts has led to an insatiable thirst for knowledge of natural healing for the physical body.  The more I trust my gifts, the more I want to be connected to the earth and my highest, most natural expression of who I am in this amazing body. I plan to write about many wonderful discoveries, but for today, I'm focusing on hair care.
This aspect of my own journey felt evermore important to me in recent years as the long and very thick locks of my youth seemed to be leaving me. Day after day, handfuls of hair were falling away.  I started to realize how much I identify with how I look, how much value I had placed on how I thought the world viewed my physical body, and through that experience, I started to learn why I was losing my hair.
The first thing I began to do was appreciate and love my body, just the way it is, right now.  I started to resist the impulse to judge myself, and I started to notice how many women degrade themselves in an attempt to feel like a part of the group (usually other women) or in an attempt to gain attention and praise from the group (usually inclusive of men).  This inauthentic attempt to connect with others, without being willing to shine myself, was my own way being for most of my life, but it became very clear and obvious to me once I stopped and stepped outside the old pattern, that there was a better way.
From the outside in, observing and not participating the same behavior, the self-inflicted judgment of others didn't actually cause me to want to offer the praise they seemed to ache for.  To praise them or try to save them from their own cycle of pain felt forced, and all I could seem to do was observe.  It started to sink in that I really couldn't save them from their own illusions and projections regardless of what I said to try to soothe the pain, but I could save myself and begin to have integrity within my own perceptions of myself, and in those experiences, I began to purposefully quiet myself.  There was nothing to offer or fix.  It now feels like I offer more by letting it be, accepting others where they are, which happens organically simply because I am accepting myself.
The more I learn to love who I am AND the body I get to experience this life from within, the more I want to give my body what it really needs, and it becomes easier to eat properly, to listen to my body.  I am a work in progress now, not interested in perfection but health, balance, happiness.  "Everything in moderation, including moderation" (attributed to Oscar Wilde, Horace Porter, and Petronius).
During the years when I was losing hair, I also started to have issues with dandruff, overproduction of oil, and my scalp was often itchy and angry.  I feel now that this was the last stage of my body ridding itself of the toxins I had held onto for so long.  Some refer to that as a healing crisis.  I felt old, unhealthy and deeply sad, but I keep moving forward knowing a solution was on its way.  If I trusted anything, I knew I could ask and it would be given; it always is.
Fast forward to today, a few no-poos and alternative treatments later, and I arrive at Ayurveda and shikakai, henna, and a few other gems.  Mind you, I source everything with good research; I rarely now just pick something up off a shelf.  I look for organic, clean, fair trade products.  The chemicals and preservatives I was so blindly using on my body were, after all, adding the the problem.  Feel free to use the comments section to post your recipes and ideas.
Use these links to find out exactly what I use and where I get it.
Shikakai powder
Amla powder
Fenugreek powder
Soap nut powder
Right now, I sit at my computer with a full head of healthy, wavy brown hair that reaches halfway down my back.  The pictures I am sharing with you are me, finally recovering from what I thought was inevitable aging.
The natural remedies I am sharing with you today worked immediately, continue to work for me, and have had zero side effects. They work for all hair types, all races, and are completely safe.  I say that with the caveat that if you have curly hair or dry hair, you may find you want to learn to oil your hair also (more on that later).  There are also no preservatives or chemicals used, just nature.
And now, the star of the show and the primary focus of this article, shikakai (pronounced shee-kak-eye).  This wonderful Indian medicinal plant has worked wonders on not just my hair but also my skin. I use it everywhere!  It is a conditioner, pH balancer, clarifier, and it is used to treat various kinds of scalp or skin issues. I call it my mud shampoo.  Shikakai can be used alone or with other herbs; I share a favorite recipe with you below.
What is shikakai?
From Wikipedia:  Also known as Acacia Concinna, shikakai has been used traditionally for hair care in the Indian Subcontinent since ancient times. It is one of the Ayurvedic medicinal plants. The fruit is known in India as shikakai (Hindi: शिकाकाई, śikākāī; Kannada: ಸಿಗೆಕಾಯಿ; Tamil: சிகைக்காய் – Literally "hair-fruit", sigai=tresses and kaay=fruit;) "fruit for hair" in its use as a traditional shampoo.[5] In order to prepare it the fruit pods, leaves and bark of the plant are dried, ground into a powder, then made into a paste.
While this traditional shampoo does not produce the normal amount of lather that a sulfate-containing shampoo would, it is considered a good cleanser. It is mild, having a naturally low pH, and doesn't strip hair of natural oils. Usually no conditioner is needed, for shikakai also acts as a detangler.[6] An infusion of the leaves has been used in anti-dandruff preparations.
How I use shikakai powder:
First, shikakai can be tough to find.  Don't worry about finding the whole seed or plant; use the powder, it has a solid shelf life.  I was able to locate an organic source with good reviews on Amazon; see the link at the bottom of the article.
I use this powder a couple of times a week by simply combining it with filtered water until it is a yogurt-like consistency; it looks like chocolate when it's mixed.  You can also shake the powder up with some filtered water if you want a runnier consistency or a rinse.  I prefer a thicker paste because it feels fantastic on my sensitive scalp.
I use about 1/4 cup shikakai powder and just enough filtered water to make a paste.  My hair is long (about mid back length); use less powder if you have shorter hair.  I take my bowl of shikakai with me to the shower because it IS messy.  I massage it first into my scalp and hairline and then through the length of my hair, leaving it on for the rest of my shower and rinsing thoroughly when I am almost done showering, using first a warm rinse and then a cool rinse to finish.  Once you have the shikakai applied, it feels wonderful.  It feels and looks like mud and cools the scalp.   (See images below.)  Use it to wash your face and back, or wherever you like; your skin will be so soft when your done!
If you love this method of hair care, you can add lots of different herbs and medicinals to complement your shikakai.  Fenugreek seed is often used to further condition; it's very easy to find and grind up.  Amla powder is commonly added to add thickness.  There are countless recipes available to add lovely smells and treat the hair in different ways.
I love the way my mud shampoo smells without any essential oils added, but many people love to add essential oils to perfume the hair.  I have been making the following recipe and alternating with shikakai paste; I love both treatments.  I also love oiling my hair, it's just more time consuming than I typically can allow for.  If you have the time, I say go for it, your hair will thank you!
---
Mud Shampoo
Use 3 cups filtered water and the powders above, mix in a glass container and leave overnight or for 8 hours. Simmer and reduce the mixture by 1/2 (takes about 20-30 minutes) while occasionally stirring. Cool and run the reduced mixture through a strainer, removing the bigger particles. You are left with more of a thick rinse. Store in a glass jar in the refrigerator for a couple of weeks (mine never lasts this long).
---
Nowadays, I typically use my mud shampoo every 3rd day or so. If I am short on time or I haven't made my mud shampoo, I just put together some shikakai paste and I'm good to go.  My hair is getting thick again (big sigh of RELIEF), I am rarely having any itchy scalp or dandruff issues.  This treatment is good for dandruff, split ends, any scalp issue, acne and nearly any skin condition.  I wash my face and back with shikakai paste, and it leaves my skin soft and clean, never feeling depleted of its natural oils.
In the mix of possible topics for next time are hair oiling, henna, and cleansing the face with oil — why I choose these ancient methods and the modern day medicinal benefits.
Enjoy! Feel free to use the comments section for recipes, questions, ideas you have.
Espavo (Thank you for taking your power!)

This slideshow requires JavaScript.
Disclaimer
I am not a medical doctor.  My story is specific to me and my experience.  Please check with a doctor before using any herb or supplement and/or if you have questions or are taking medications, particularly if you are pregnant or nursing.
Copyrights
Please feel free to repost and share this article with consideration of a link to this site.  All images used are the copyrighted property of Studio Malia and Malia's World, LLC.
Sessions
Malia is a natural psychic, empath, intuitive, healer and practitioner of energy medicine, as well as creator of "Finding Your Intuitive Yes!"  an interactive group session designed to assist in remembering and practicing intuitive communication.  She is available for sessions on various websites and in her private practice at Empath Malia.
Malia is also an intuitive, contemporary artist.  Feel free to view her work at Studio Malia or peruse her ever-expanding home goods (and soon-to-be clothing) line on Etsy @ StudioMalia.

How Shikakai Saved My Hair
This article first appeared on my website: Empath-Malia.com
All content shared on this website, written by Malia Shields, is copyright protected by
Malia Shields and Malia's World, LLC.
My name is Malia. I am an empath, intuitive reader & practitioner of energy work. I work both privately & online & have been available to the public professionally for the last 9 years. You may have noticed my page on various other websites.
Comments
comments