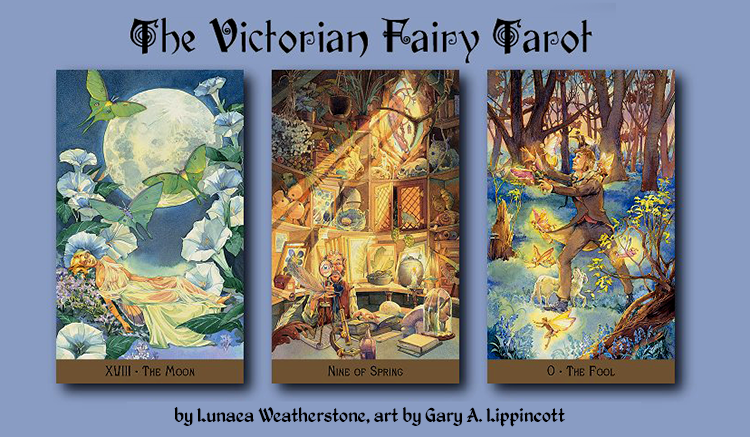 Tarot Card of the Week: June 13 – June 19, 2016
The World
This week's card 'The Worlds' is drawn from one of my favourite decks ever; The Victorian Fairy Tarot. Here we see a beautiful fairy glen, a scene of luminous celebration. Glowing fairies dance in a circle (a mushroom "fairy-ring" just as we might find out in the garden!) as bluebells bask nearby in the moonlight. We first see this fairy glen in the very first card of the deck, "The Fool" in which our adventurer steps innocently into the unknown, into the same patch of bluebells and magic at the start of the journey.
But this week, we've come a long way from our time of innocent beginnings. We've put in a lot of hard work and a lot of distance has been traveled, a lot of obstacles have been overcome or will be overcome soon. The human city visible off in the distance in this card shows us just how far we've come. It's time to celebrate and honour all the things you've learned and the amazing progress you've made and to see with honest eyes and and open heart just how much progress you've made!
It's easy to get caught in the trap of, "well I still have a lot of growing to do…" or, "I haven't made as much progress as I want in this one area," but this card is reminding you that in this time of new chapters and new beginnings, it is just as important to see where you have BEEN as to be excited about where you can still go.
You may be completing a major achievement or reaching a milestone on your journey this week. It could be that you're finishing up a project, or studies or you're reaching a new level in your relationship (getting married, getting engaged, planning a family) – enjoy that sense of success and accomplishment this week but at the same time remember that every cycle in life is continuous and endless.
You never have to be scared that now that you've made it, there's nowhere else to go, no new adventures to be had. Sometimes we're afraid to " get there " because NOW what? What next? What scary new thing do I have to deal with? What might be ending? What might be beginning? IS THIS ALL THERE IS? — this week put all of that aside. Life is always going to offer you an endless opportunity to keep growing and enriching your life and relationships. If you're feeling an accomplishment, take stock of where you've been – celebrate that! But don't be let fear ruin your sense of pride in your accomplishments in fear about what is next, or in harsh judgment about what you still have to do.
Those bluebells? In the language of flowers they represent enchantment and delight. This is a week to take a deep breath and take in all that is good in your life, to feel again, to feel innocent again. ENJOY!
About this deck: The Victorian Fairy Tarot by Lunaea Weatherstone and Gary Lippincott, is published by Llewellyn, is one of the most beautifully painted and illustrated tarot decks ever created.
© 2016 Willow Brilliance in Sight/Psychic Scoop
Check out my website and BLOG for more goodies!
---
This Week's card — The Worlds — features the Victorian Fairy Tarot by Gary Lippincott and Lunaea Weatherstone. 
Gary
is a prolific fantasy artist and illustrator whose work is well known throughout the publishing industry. His children's books are well worth checking out. Private commissions and individual prints are available for purchase on his website. 
Lunaea is the author behind the Mystical Cats Tarot, The Astrological Oracle Cards and Wicca Oracle, among others.
This is a Lo Scarabeo deck, published by Llewellyn.
I'm available for personal readings and chat sessions.
Please email me or chat with me to schedule an appointment for a 10, 15, 30, or 60 minute session.
you can visit with me via my chat messenger that anyone can use.
Please let me know your time zone and the times most convenient for you.
Want to read more articles like this? Visit my website:Brilliance In Sight.
You can also read more of my articles here.
---
Willow is a natural psychic who's been studying and practicing metaphysics for over 25 years.
In addition to working with local clients and students, she is able to consult with clients all over the world. She is also phenomenal artist, writer and teacher who contributes to numerous websites.
She is available for chat and phone sessions, offering a variety of payment options. Learn more about her and schedule a session with her through her
Psychic Scoop
profile page.
Comments
comments