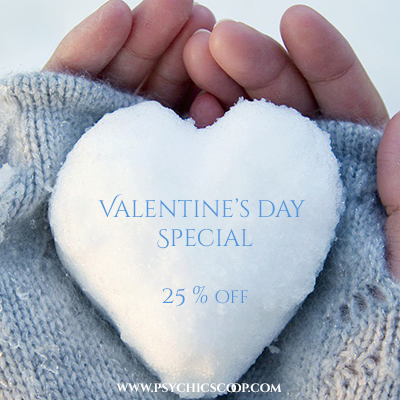 Happy Valentine's Day! In honor of Cupid's favorite holiday, a number of the site's advisors are offering 25% off on single session purchases for all clients.
Each client taking part in this promotion will also receive a FREE astrological compatibility report (emailed after the completion of their session).
This offer is good for sessions of any length and is good for one time only.
Because the site's advisors are all independent contractors, regular and discount rates will vary. You can contact the advisor you're interested in speaking with directly to see if he or she is participating.
Although we'll be offering other discounts over the next several months — both individually and collectively — this one is slated as a Valentine's Day promotion and is redeemable between Feb 12, 2015 and Feb 15, 2015.
Also, if you're looking for a unique and personalized gift idea, we're also offering Valentine's Day gift certificates.
These are available for sessions with advisors offering the 25% discount and may be combined. Gift certificates must be used within 30 days of purchase and are valid only with the advisor originally assigned to.
If you're looking for a gift for that special someone who already has everything, who's hard to buy for, or who just wants to know what's in store for them in the love department — and who doesn't? — this is the perfect choice for you.
Here's a sample of the Psychic Scoop Valentine's Day Gift Certificate, which will be customized with your specific offer and personalized message.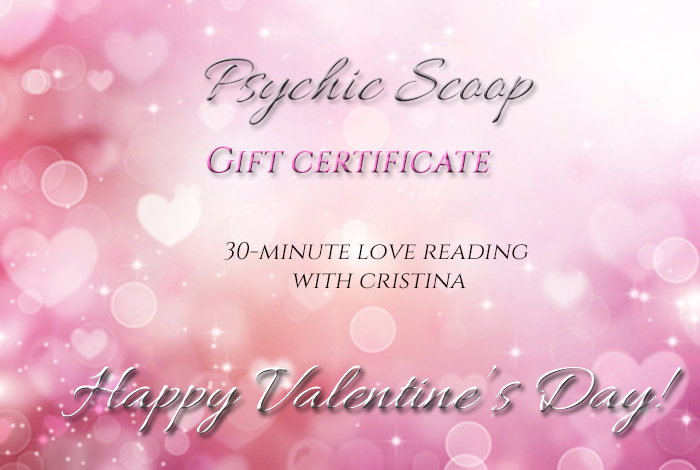 Choose from the advisors in the sidebar at right and contact them directly to take part in this offer. Also be sure to subscribe to our mailing list to get a heads up on future (some exclusive to subscribers only) offers.
[wp_email_capture_form]
Comments
comments