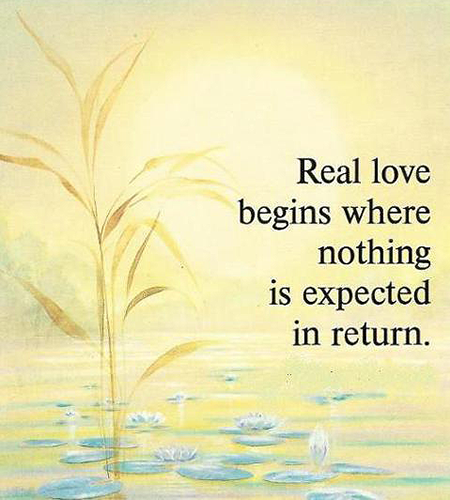 If we quote the Bible, Unconditional Love is described in 1 Corinthians 13: 
1 If I speak in the tongues of men or of angels, but do not have love, I am only a resounding gong or a clanging cymbal.
2 If I have the gift of prophecy and can fathom all mysteries and all knowledge, and if I have a faith that can move mountains, but do not have love, I am nothing.
3 If I give all I possess to the poor and give over my body to hardship that I may boast, but do not have love, I gain nothing.
4 Love is patient, love is kind. It does not envy, it does not boast, it is not proud.
5 It does not dishonor others, it is not self-seeking, it is not easily angered, it keeps no record of wrongs.
6 Love does not delight in evil but rejoices with the truth.
7 It always protects, always trusts, always hopes, always perseveres.
8 Love never fails. But where there are prophecies, they will cease; where there are tongues, they will be stilled; where there is knowledge, it will pass away.
9 For we know in part and we prophesy in part,
10 but when completeness comes, what is in part disappears.
11 When I was a child, I talked like a child, I thought like a child, I reasoned like a child. When I became a man, I put the ways of childhood behind me.
12 For now we see only a reflection as in a mirror; then we shall see face to face. Now I know in part; then I shall know fully, even as I am fully known.
13 And now these three remain: faith, hope and love. But the greatest of these is love.
So how does that translate into our modern day relationships?
The best way to explain this is to use examples. Very often when we meet someone new we experience feelings of falling in love. We have our own thoughts and ideals as to what love is and how the interaction works.
The first thing we often do is apply those thoughts and feelings to the other person and assume that they see it from the same perspective. The next thing that happens is that our own ego monster rears its ugly head and demands reciprocation, validation and reward for how we are feeling. This is the point, VERY early in the interaction, when love becomes CONDITIONAL.
Examples of Conditional Love:
"I love him so much but he treats me so badly – what do I need to do to get him to treat me as well as I treat him?"
"He says he loves me but doesn't call me for weeks should I move on and find someone else?"
"I tell him daily how much I love him, I do special things for him, I am always there for him, but I am always way down on his list of priorities, almost an afterthought, what should I do?"
The above statements are all examples of a desire to BE loved. Almost like a trade – off. I do for you, so you need to do the same for me and if you don't then I need to either leave you or find a way to manipulate the reaction that I desire from you.
Lets look at those same statements from an Unconditional perspective.
"I love him so much but there are times when he treats me badly." When this happens I need to set solid boundaries, come from a place of SELF love and let him know that this is not acceptable. This doesnt mean that I don't love him – its means that I love myself first. I also need to decide if I can be around him if this is the way he behaves.
"He says he loves me, but doesn't call me for weeks. I love him too. I hope he is ok." If I am seeking the kind of relationship that involves daily contact and attention then maybe he is not the one to give it to me. But I love him and wish him the very best, always.
"I tell him daily how much I love him, I do special things for him, I am always there for him." I do this because I choose to, because I love him unconditionally and I am not seeking anything in return. I recognise that if I was doing this to provoke a response then I would not be coming from a place of unconditional love, I would be coming from a place of need, doing all these things in the hope that he does the same in return.
The greatest gift that we can give others is to allow them to be exactly who they are. Love is not about what we get back. It is not about manipulation, control or need. It is also not about being a victim and allowing yourself to be mistreated or disrespected.
Love is about asking yourself what you can comfortably give the person you love without wanting ANYTHING in return. When you give with the expectation of getting the same back you are also limiting your capacity to receive unconditional love. It's hard to love someone who has terms, conditions, requirements and rules as to how you deliver that love.
by
Arrange a psychic reading with me
Like this article? Read my book Relationships, what YOU need to know!
This article also appears on my website.
Please 
email me
 to schedule an appointment or
visit my website
.
I am available by appointment only and I can offer sessions often at very short notice via Skype. Once we are connected on Skype, subsequent sessions can be arranged via Skype chat when you see me available.
PLEASE DO NOT CALL ME UNLESS YOU HAVE AN APPOINTMENT FOR A READING. APPOINTMENTS ARE MADE VIA EMAIL ONLY. THE REASON FOR THIS IS THAT RANDOM CALLS CAN INTERRUPT PAID SESSIONS WITH CLIENTS.
---
Please visit my website.
You can also read more of my articles right here on the Psychic Scoop website.
I am a published author, certified Theta healer and Psychic. My aim is to leave you enlightened and empowered by taking control of your own life. YOU are the author of your destiny! My readings require you to accept that YOU have the power to change the course of your life and nothing is set in stone.

I have written a book: "Relationships: What You Need to Know" and also have my own thriving psychic and relationship oriented website. I am available for skype, chat and phone sessions, offering a variety of payment options.
Latest posts by Fiona Beck (see all)
Comments
comments