Tarot Card of the Week: August 24 – August 30
Ten of Pentacles
Pentacles are a suit of money and material things, tangible in the here and now. The number ten represents completion through perfection.
This week's card, the Ten of Pentacles, is from the Deviant Moon Tarot by Patrick Valenza.
While the picture on the card may seem a little ominous, and people fear a pentacle, I promise this is one good card to get in a reading.
The Ten of Pentacles is represented by the Lord of Wealth, it is the element of Earth, the earth signs of the Zodiac: Taurus, Capricorn and Virgo, the season is Winter, the direction of North and the herb is the Wild Yam. The wild yam is used as an estrogen replacement, disorders of the intestines, diverticulosis, gall bladder pain, and for increasing energy.
The key parts of the Ten of Pentacles are prosperity, property inherited wealth, more than may have been expected. Material security founded on the work of others, family matters stabilized.
Now let's take a closer look at what these things can mean for you in the different areas of your life:
Work
If you are currently employed, you may find yourself being offered a promotion or better position within the company. A raise could also be offered and that's always a good thing.
If you are looking for employment, the ten of pentacles is usually an indication of a good job offer, including a good pay scale and benefits package. Of course, this just doesn't appear out of thin air, you'll have to be active in looking for this position.
Love
If you are currently in a relationship, this is a good sign that you are in a good place with it and a great possibility of it moving forward to the next level, as in an engagement or marriage. Of course, it you are already married, it means you are where you should be and the work you have put into it shows.
Not in a relationship, well not to worry, it can mean a stable relationship is on the horizon for you. Of course, unless you're hoping for a relationship with the USP man, it won't just come knocking on the door, you'll have to put yourself out there and be open to the new prospect.
If there has been a rift in your family, it can also signify a coming back together, settling matters, forgiving and moving forward to bring the family to a more peaceful relationship.
Finances
When I see this card come up in my own reading, I get excited because I know my finances are going to be great. This is an especially good time for you in regards to both material and monetary gain. If you are expecting an inheritance, be assured it will be more than you anticipated, and that's always a good thing. Money will seem to come easy for you right now, enough to pay the bills and a lot left over. While the money seems to be flowing for you right now, be sure to save some back for the future or a rainy day. It would also be a good time to make some solid investments. You might also find yourself wanting to spread the wealth a little bit by helping out some relatives or friends that seem to be struggling.
Spirituality
While the ten of pentacles deals more with monetary and material gain, in your spiritual journey it can indicate you are finally in a good place. You have been finding your inner peace on a much higher level, something you have long been striving for, but because you are seeking more, your journey will continue to enlighten you.
Now, remember I promised you the Ten of Pentacles was a really good card to get in a reading. When you get this card, you can be assured that everything seems to be going your way in most all aspects of your life.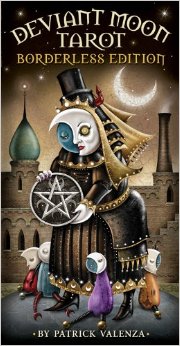 This week's card — the Ten of Pentacles –comes from the Deviant Moon Tarot by Patrick Valenza.
This deck is available in both the premiere and borderless editions through the Deviant Moon Tarot website.
This deck was published by U. S. Games.
Be sure to visit and "like" the Deviant Moon Tarot's Facebook Fan page!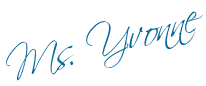 Sessions

I am available for Live Chat sessions or you can Email me to schedule a session.
In most cases I'll get right back to you and it will never take more than 24 hours.
Want to read more articles like this? Visit my website: Readings by Ms. Yvonne.
You can also read more of my articles here.
Comments
comments