Card of the Week: Jul 17 – Jul 23, 2017
Queen of Cups
This week is going to be about taking care of yourself as well as others and if there has been any unbalance between the two lately then it's time to take a look at that.
There is a touch of the fairy about this image — the Queen of Cups from Nathalie Hertz's fantastic Faerie Tarot — and predominance of the colour green shows that there is healing around for you.
You may wish to choose where and whom you deliver this healing to as if you need more energy for yourself there is no use giving it out to others when you could be replenishing your own reserves.
Any pet project you have going on or in the pipeline will need careful surveying today and the finishing touches may need to be put in place.
There is help at hand for this as the white petals float down from the tree in the background giving new thoughts that come from nowhere to help you.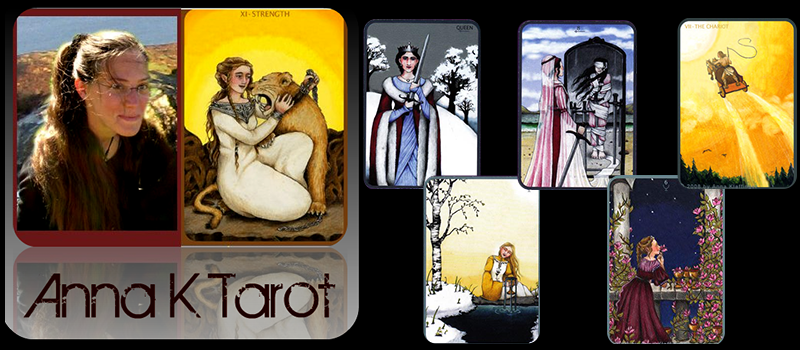 Tarot Card of the Week: July 10 – July 16, 2017
Strength
This week you may need to dig deep to find your inner reserves of strength and power. You may be called upon to tame your inner beast and harness your fears.
The Strength card is a card of self-mastery. It's all about mind over matter and gaining control over the things in your life that are at risk for spiraling out of control.
It refers not to physical strength but to courage, will-power and self-control. It can also mean finding an appropriate outlet for something that you may have responded to in a less than favorable manner in the past.
The Strength card indicates a need to master your fears and conquer your demons. It speaks of staying grounded and being steadfast in the face of danger, no matter what curve-balls the Universe throws your way.
You may need to put on a brave face and tackle the things that frighten you or take you outside of your comfort zone. You may also need to be kind to yourself and tend to your own needs with the same loving care that you're used to doling out to others.

Tarot Card of the Week: June 26 – July 2, 2017
Lizard
This week you may find yourself needing to defend your belief systems to others. You may be called upon to stand your ground and express your views with courage and conviction.
This is not going to be the time to waiver or back down. It's all about standing up for what you believe in, even if you find yourself at odds with the masses.
The Lizard — or Seven of Branches in the Animal Wisdom Tarot — is associated with the Seven of Wands in traditional tarot. It's all about holding your ground and not allowing yourself to be backed into a corner. It's about refusing to take the easy way out or to concede defeat.
Look at how vibrant and colorful this lizard is. He's not about to be toned down or forced into complacency. His confidence may be bolstered by the branches that frame him on either side, but you can see that they offer little protection.
The rainbow behind him though says that he's standing up for something he truly believes in. His ideals are noble and his intentions are grand — even as he loudly proclaims them.
Card of the Week: June 19 – 25, 2017
Summer Solstice
The Sun moves into Cancer this week (on Wednesday, June 21, 2017), marking the onset of the Summer Solstice as well as the longest day of the year.
This is measured by the amount of time between Sunrise and Sunset for those in the Northern Hemisphere; it's exactly the opposite (Winter Solstice and shortest day of the year) for those in the Southern Hemisphere.
This card — from Steven D. Farmer's gorgeous Earth Magic Oracle deck —  is called "Radiance" and honors the Sun's role in giving us the longest day of the year, i.e., the Summer Solstice.
When we think of the Sun, we think of warmth, light and life. It warms our spirits as well as our bodies; it brightens our moods as well as the outside world, and it brings life to our dreams and goals as well as to every living thing on the planet.
It refers to the wonder and glory of being alive. Of feeling warm, confident, radiant and spirited. Its attitude is that "everything is as it should be" today, for you and in the world around you.

Tarot Card of the Week: Jun 12 – Jun 18, 2017
Knight of Wands
Your energy levels should be high this week with Mercury trining Jupiter and the Moon conjunct Uranus in Aries. These transits allow for a freedom that you may not have felt recently.
Like the Knight of Wands in this card — from the Joie de Vivre Tarot — you seem to have a spring in your step and a devil may care attitude that anything you set out to do can be accomplished.
This is throughout all aspect of your life. From the round coin shapes under your feet to the love hearts you are about to land on… it's all like frosting on the cake and there for your pleasure.
Any correspondence or communications you need to catch up on can go a bit more smoothly this week, and if there's a situation that has been making you nervous or ill at ease to the point that you want to escape but don't know the best way to go about it, you may just find yourself throwing caution to the wind and just moving on.
Nothing is going to hold you back. The Knight of Wands tells you that everything you want to achieve is yours for the taking. The sky is the limit — you just need to give it everything you have as you reach for your goals.

Card of the Week: June 5 – 11, 2017
Four of Swords
This week you may feel like you need to take a breather or just focus on getting some much needed peace and quiet.
The Four of Swords — from the Golden Tarot of Klimt — encourages you to disengage from all the commotion that surrounds you find your strength through rest and recovery.
It could be as simple as getting away for a few days to relax and recharge your batteries. And it could be as profound as going on a life-altering pilgrimage or spiritual retreat.
It refers to removing yourself from all of the distractions in your life and reflect rather than "act." It speaks of detaching from the whirlwind of activity around you and choosing to observe rather than participate.
You might also be thinking of getting away from it all. You could be feeling the strains of mundane responsibilities; or maybe you just long to escape from the hustle and bustle of day-to-day life.
Tarot Card of the Week: May 29 – Jun 4, 2017
White Tiger Nine
Life may be catching up with you this week as the White Tiger Nine sweeps in with the promise of… well perhaps a change in your luck and not necessarily for the better.
This is the Feng Shui Tarot's version of the Nine of Swords, which is known as a card of struggle and strife. From the image on this card you can see that the path before you is not a straightforward one, albeit that you are not in the flames, you are nonetheless walking a very fine line between things going ok and things taking a turn for the worst.
Keep this in mind if you have anything big to do this week, and don't try to push for more than you naturally believe you deserve and even then you may wish to push for a bit less than that.
A white tiger is a rare creature and if you are feeling as if the world is against you this week then bear in mind that you are perhaps a little out of your depth when it comes to the direction you are seeking to take and that the path will not be easy.
If you look in the background of this card there is a reminiscent scene from Gone With the Wind in which people are running from something and a horse is rearing its front legs as if in fright.