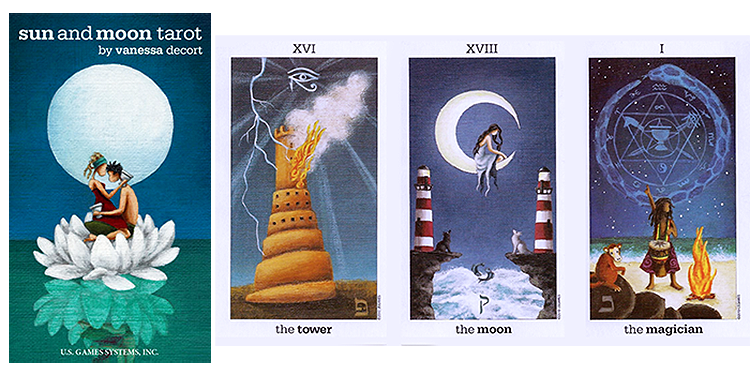 Tarot Card of the Week: Aug 28 – Sep 3, 2017
Nine of Pentacles
Now is the time to count your blessings and to express gratitude for all of the wonderful things you've accomplished in your life.
The Nine of Pentacles speaks of shifting your attitude to one of gratitude. It speaks of attracting abundance and prosperity — not just with respect to money and material possessions, but also to your own sense of self-worth.
It's about being grateful for all you've acquired and recognizing that you deserve it. It's about developing a prosperity consciousness, knowing that the Universe offers up unlimited abundance to those who do.
The Nine of Pentacles — this version, from Vanessa DeCort's beautiful Sun & Moon Tarot, is called "Gain" — represents that intricate and fulfilling balance between expressing gratitude and achieving prosperity.
It also refers to that sense of satisfaction that comes from knowing that you are where you are not because you've been lucky or have been the benefactor of someone else's generosity.
It's been through your own hard work and determination (as seen in the Eight of Pentacles) that's led you to where you are today. 
The man in this card looks perfectly content, nestled in the arc of his garden wall. He's surrounded by symbols of growth and prosperity (the light of the mid-day sun shining down and nourishing the sunflowers below).  He's there not only to tend to them, but to enjoy them and express his appreciation for their beauty.
This is a key feature with the Nine of Pentacles. Balancing out the give and take in your life while still maintaining your priorities. Remember that whatever you put out there — whether it's time, energy, money or yourself — as well as whatever you're open to receiving, will all balance out and be replenished over time.
.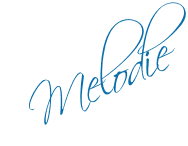 ---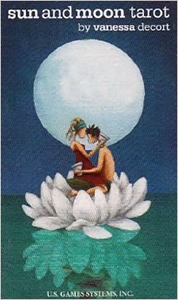 This week's card — Nice of Pentacles — comes from the beautiful Sun and Moon Tarot by Vanessa Decort.
Vanessa Decort graduated in 1998, from Sint Lukas Art School Brussels, with a degree in graphic design and illustration. 
She now holds art classes at the Academy of Art while working on her own projects. 
Be sure to follow her on Facebook. 
The Sun and Moon Tarot is published by US Games.
I am available for live phone, Skype or chat consultations in 30 and 60 minute increments at the rate of $3 per minute for 30 minute sessions and $2.50 per minute for 60-minute sessions. I am also available for phone or chat through Click4Advisor at $3.99 per minute.
Please note that I do not offer free readings and these are the lowest rates you will find me at online. I am located in the US, in the Eastern time zone.
Feel free to pop into my chatroom if you see me available live, or email me to schedule a session if you don't. PayPal and Click4Advisor links are accessible through the sidebar on the right.
[skype-status skype_id="melodie.sheppard" user_name="Melodie" button_theme="addme_classic" button_function="add" use_voicemail="on" use_getskype="on"]
Want to read more articles like this? Visit my website: Ask the Astrologers
You can also read more of my articles right here on Psychic Scoop.
Comments
comments