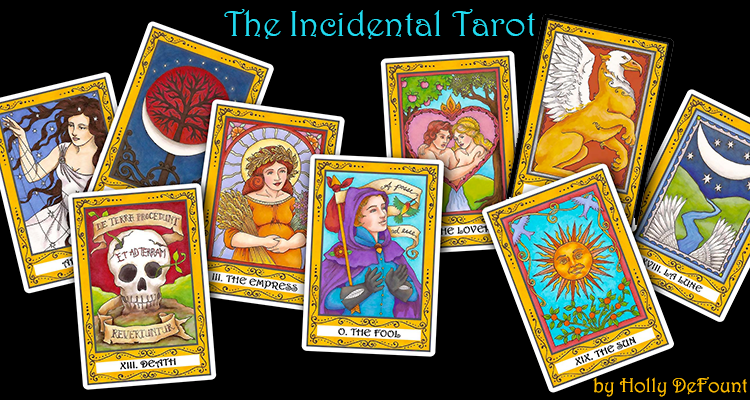 Tarot Card of the Week: Feb 29, 2016 – Mar 6, 2016
The Phoenix
This week may see you feeling like your carefully constructed world is falling apart all around you.
The Phoenix is the Incidental Tarot's version of the Tower card. It refers to abrupt and unsettling changes that can take you outside of your comfort zone, through the sense that everything happening around you is completely outside of your control.
This version of the card puts some of those challenges into perspective. The references here are less about destruction and more about transformation.
The destruction is evident — and necessary — but the focus shifts to what is accomplished and gained by letting go of all that's been holding you back.
There are trial by fire connotations here, in addition to the obvious alchemical references. Notice that the Phoenix is not just rising out of the ashes, but also rising above the tumultuous waves of emotion.
It may be that your belief systems are being challenged by others. Or maybe you're witnessing the people and things you've held onto so desperately are now being be ripped from your grasp.
The message behind the Phoenix card is the same for both scenarios: it's the Universe's way of showing you what you don't need by removing it from your life.
Take some time this week to reflect on what you've been holding onto that is no longer conducive to your growth. It could be a relationship, an old resentment, an outdated belief system, or even just a pile of "stuff."
Remember that the Universe does not appreciate a vacuum. All of the empty spaces you end up creating — by letting go of that which no longer sustains you — will be replenished in the end and replaced with that which can.
---
This week's card — The Phoenix — comes from the Incidental Tarot, self-published by talented artist and tarot master Holly DeFount. 
This beautiful deck can be purchased directly from Holly through her website as well as her Raven & Rose Etsy storefront.
Be sure to check out Holly's Raven & Rose website / blog as well as her Facebook Fan page! 
Used by generous permission. 
---
Sessions

I am available for live phone, Skype or
chat consultations
in 30- and 60-minute increments at the rate of $3 per minute for 30 minute sessions and $2.50 per minute for 60-minute sessions payable through PayPal. I am also available for phone or chat through Click4Advisor at $3.99 per minute.
Please note that I do not offer free psychic readings and these are the lowest rates you will find me at online. I am located in the US, in the Eastern time zone.
Feel free to pop into my chatroom if you see me available live, or email me to schedule a session if you don't. PayPal and Click4Advisor links are accessible through the sidebar on the right.
---
Want to read more articles like this? Visit my website: Ask the Astrologers
You can also read more of my articles right here on Psychic Scoop.
I am a professional astrologer and spiritual advisor with more than 30 years' experience. I am proficient in astrology, tarot, numerology, the enneagram, feng shui, and many other mystery schools. I am available for chat and phone sessions, offering a variety of payment options. Learn more about me and schedule a session with me through my
Psychic Scoop
profile page.
Comments
comments