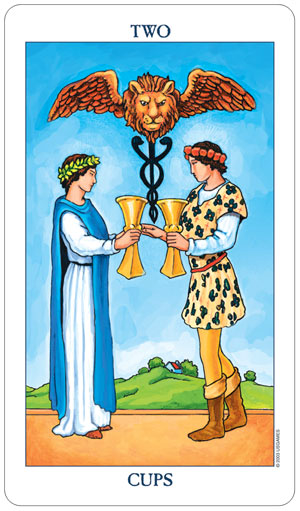 Tarot Card of the Week: Aug 1, 2016-August 7, 2016
Two of Cups
One of the most common things I hear from people is about the future of a new relationship.
If you are looking for love or have recently met someone then this is the card you want to draw as a present or future card in a reading. This week's tarot card is the Two of Cups from the Radiant Rider-Waite Tarot.
On this card two lovers are facing each other, offering their cups and sharing their feelings. The beginning of a new relationship can be an exciting time! We are, of course eager to know how this relationship will unfold!
There is alchemical energy in this card – It depicts the beginning of the bonding process. The future energy of this relationship is determined by how things are in the present and the other cards surrounding it.
This card can also indicate reconciliation, partnership and harmony and cooperation. Or a situation where there is a meeting of minds, heart and souls. The Two of Cups is about the power of love in all its forms and its uniting force.
Love is a healing and unifying force. Numerous studies show that the success of a relationship depends on certain commonalities we share and the willingness to stay present with this person. In this card we see a resonance forming between two people.
As a wise master once said: "When you love someone, the best thing you can offer is your presence. How can you love if you are not there?" — Thich Nhat Hanh
A relationship is like walking on a garden or on sacred ground. There are things to discover and explore. If you have just met someone, see if you can adopt an attitude of curiosity – who is this person really and what interests you about them? What qualities do you both have to share?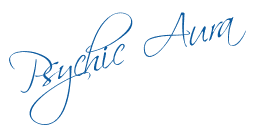 ---
This week's card –Two of Cups — comes from the Radiant Rider-Waite Tarot. 
The Radiant Rider-Waite Tarot is a vibrant recolored version of the original Rider-Waite Tarot deck, which were drawn in 1909 by Pamela Colman Smith under the direction of Arthur Edward Waite.
This deck has been beautifully recolorized by Virginijus Poshkus, and includes an instruction booklet with an Introduction by Stuart R. Kaplan.
It's available Amazon or through the publisher, U.S. Games Inc.
Have a burning question on any matter in your life right now? Click here for a personalised online reading with Psychic Aura or email here for an appointment.
I am available for Live Chat or Skype sessions. You can also email me to schedule a session if you don't see me live.
I look forward to talking with you!
Want to read more articles like this? Visit my website Psychic Aura.
You can also read more of my articles here.
---
Comments
comments