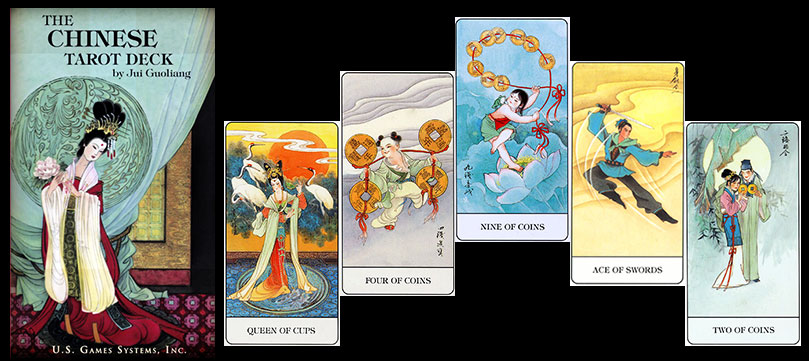 Tarot Card of the Week: Feb 27 – Mar 5, 2017
Three of Swords
This may be a high energy and potentially volatile week. Emotions can be difficult to contain — particularly the more aggressive emotions, like anger, impatience and indignation.
You want to be on your toes, especially where relationships are concerned as you may have to deflect a few daggers that come your way.
The Three of Swords — this version from the gorgeous Chinese Tarot — is often seen as pain and heartache, but this version veers so significantly from traditional imagery that it becomes a welcome and refreshing change.
You may not be particularly happy every moment of every day. You may still feel the sting of rejection or love lost.
But as you can see from the figure in in this card, it's more about stopping pain in its tracks than it is about allowing it to cut you to your deepest core.
The young warrior in this card is a whirlwind of action and energy. She sees the sword coming at her and acts with deftness and precision. She wields two swords of her own and uses them to block the third one, thus minimizing the damage done.
This is in keeping with this week's transits — most notably a Mars / Uranus conjunction opposing Jupiter. There's a lot of reckless and belligerent energy associated with this aspect. But there's also enough courage and confidence there to bolster us into taking back our power.
The Three of Swords can refer to deep psychic woulds that are cut open by circumstances beyond your control. Usually a rejection or heartbreak that even if you saw it coming you felt powerless to stop.
But this version tells you that you can take charge of the situation and decide how you want to react to it. You don't have to suffer needlessly. What happens may be outside of your control but how you respond to it is most definitely not.
---
This week's card  — Three of Swords — is part of the Chinese Tarot by Jui Guoliang. 
The Chinese Tarot captures the charm and mystery of ancient China with illustrations that are both vibrant and delicate. 
The Tarot Passages website has a comprehensive review of this deck.
The Chinese Tarot is published by US Games. 
.
---
Sessions

I am available for live phone, Skype or chat consultations in 30 and 60 minute increments at the rate of $3 per minute for 30 minute sessions and $2.50 per minute for 60-minute sessions. I am also available for phone or chat through Click4Advisor at $3.99 per minute.
Please note that I do not offer free readings and these are the lowest rates you will find me at online. I am located in the US, in the Eastern time zone.
Feel free to pop into my chatroom if you see me available live, or email me to schedule a session if you don't. PayPal and Click4Advisor links are accessible through the sidebar on the right.
» Get Skype, call free!
I am a professional astrologer and spiritual advisor with more than 30 years' experience. I am proficient in astrology, tarot, numerology, the enneagram, feng shui, and many other mystery schools. I am available for chat and phone sessions, offering a variety of payment options. Learn more about me and schedule a session with me through my
Psychic Scoop
profile page.
Comments
comments