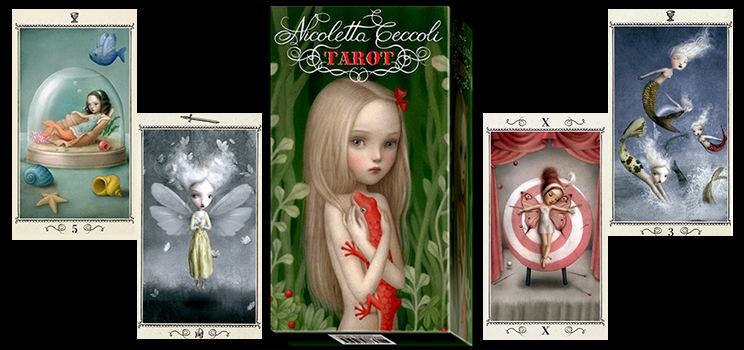 Tarot Card of the Week: Sept 14, 2015 – Sept 20, 2015
The Hermit
This week's card is the Hermit from the beautiful Nicoletta Ceccoli Tarot. The Hermit card refers to the yearning for wisdom and knowledge that so many of us possess but so few of us take the time to nurture and develop.
You may be feeling the need to retreat from others in order to clear your head and recharge your batteries. Or you may be so distracted by the noise and interferences around you that you just want to escape.
The Hermit card responds to these urges by encouraging you to turn inward, to pause and reflect, and to seek your own inner light. It speaks of gaining insight and wisdom through solitude and introspection.
The central figure in this card is a woman dressed in a red-and-white tunic which transforms into a circular spiral formation behind her. She paces around the edge of another circle — this one a pattern painted onto the floor. Along the outer perimeter of the same circle stands her mirror image, in miniature version.
Together they wind their way around the circle, each with the light of a candle to guide their way. The candles provide illumination of a different sort, although they may not even need them: they seem to know the steps by heart. The circular theme is repeated in the shape of the room itself.
The Hermit card refers to turning inward and seeking guidance from your Self. Much like the woman and her mini-me here in this card. It can appear at a time when you're so bombarded with external stimuli that you just want to "get away" from it all.
This theme is reinforced by Mercury turning retrograde this week (on the 17th). Among other things, Mercury retrograde invites you to "look back" and re-evaluate some of your earlier choices, which have in turn led you to where you are today — on your own circular path.
This card encourages you to embrace solitude through whatever means you find necessary. It challenges you to rise above your mundane concerns and get a better understanding of yourself through searching for deeper meaning.
Be careful that you don't spend so much time in your head that you miss out on opportunities that present themselves.They may seem random in the moment but reveal themselves later to be much more important than you'd realized. You also want to be conscious of your own motivations: the downside of this card is the urge to hide things, close yourself off from others and avoid those who matter to you most.
This week you get to choose whether you're lighting your own way or acting as a guidepost for those who have wandered away from theirs. Both are valid endeavors, and only you will know which is the right path for you. As the Hermit card also refers to turning inward, there is an entire spectrum of information — from the depths of the psyche to the heights of conscious awareness that can be accessed through this process.
Rather than going in circles you may want to look at this as retracing your steps, which is something the Universe sometimes wisely imposes upon us. It's not about repeating past mistakes: it's about revisiting old hindrances and finding ways to resolve them.
.
Today's tarotscope — The Hermit — is part of the Ceccoli Tarot series by Nicoletta Ceccoli. 
Nicoletta Ceccoli is a prolific and acclaimed painter whose richly detailed, dreamlike work has earned her fans all over the world.
Limited edition prints of her beautiful artwork is available for purchase through AFANYC. This is a Lo Scarebeo deck, published by Llewellyn.
Please also visit and "like" the deck's Facebook Fan page. 
Used by generous permission. 
Sessions

I am available for live phone, Skype or chat consultations in 30 and 60 minute increments at the rate of $3 per minute for 30 minute sessions and $2.50 per minute for 60-minute sessions. I am also available for phone or chat through Click4Advisor at $3.99 per minute.
Please note that I do not offer free readings and these are the lowest rates you will find me at online. I am located in the US, in the Eastern time zone.
Feel free to pop into my chatroom if you see me available live, or email me to schedule a session if you don't. PayPal and Click4Advisor links are accessible through the sidebar on the right.
» Get Skype, call free!
Want to read more articles like this? Visit my website: Ask the Astrologers
You can also read more of my articles right here on Psychic Scoop.
I am a professional astrologer and spiritual advisor with more than 30 years' experience. I am proficient in astrology, tarot, numerology, the enneagram, feng shui, and many other mystery schools. I am available for chat and phone sessions, offering a variety of payment options. Learn more about me and schedule a session with me through my
Psychic Scoop
profile page.
Comments
comments