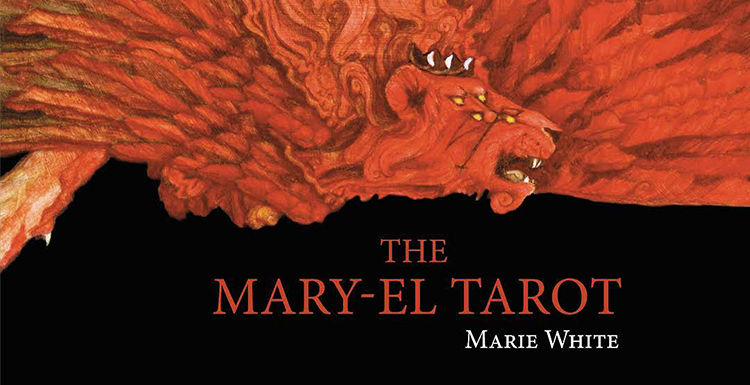 Tarot Card of the Week: Sep 11 – Sep 17, 2017
The Star
On the heels of recent events that may have seen us questioning our options and perceptions, comes a reminder that even in our darkest hours there is still room for hope. There's still compassion, redemption and the promise of salvation.
The Star card — from Marie White's stunning Mary-el Tarot — brings this reminder to life, with the Star taking an angelic form and spreading the love out over a sea of humanity.
The angel figure in this card glides through, above and among an infinite crowd of nameless / faceless beings. She is above them and at one with them at the same time. A unicursal hexigram is imprinted on her gown and the stigmata markings of Christ are imprinted on her skin.
The human figures in this card spread out as far as the eyes can see, becoming one with the landscape and the angel herself. You can see their forms becoming less and less distinct as they blend into the hills and valleys that stretch back toward the horizon.
As Venus moves forward to conjunct the North Node, we may be thinking more about how we are all apart of one another. This transit is associated with communion, compassion and unconditional love.
It's associated with dreams and visions, beauty, harmony, kindness and grace. It's also associated with sacrifice, a theme referenced here in the markings on the angel's palms, feet and forehead.
The unicursal star is a symbol of continuity. It's also said to reference man reaching up to God and God reaching down to man. This is the message behind the Star card: that we're not only all "one" but are also all a part of God, however we may experience him (or her).
The Star card reminds us of the need to rise above our petty grievances and to hold onto one another, especially when the going gets tough. As Venus moves and the North Node come together in Leo, the messages contained in this card can only serve us well.
---
This week's card of the week — the Star — comes from the Mary-el Tarot by Marie White, published by Schiffer Publishing.
Used by generous permission. Original art, as well as full-sized prints, are also available on her Etsy Shop.
Please check out and "like" this deck's Facebook Fan page. 
Thank you Marie!
---
Sessions
I am available for live phone, Skype or
chat consultations
in 30 and 60 minute increments at the rate of $3 per minute for 30 minute sessions and $2.50 per minute for 60-minute sessions. I am also available for phone or chat through Click4Advisor at $3.99 per minute.
Please note that I do not offer free readings and these are the lowest rates you will find me at online. I am located in the US, in the Eastern time zone.
Feel free to pop into my chatroom if you see me available live, or email me to schedule a session if you don't. PayPal and Click4Advisor links are accessible through the sidebar on the right.
» Get Skype, call free!
A version of this card first appeared in 2015  on the Ask the Astrologers website.
I am a professional astrologer and spiritual advisor with more than 30 years' experience. I am proficient in astrology, tarot, numerology, the enneagram, feng shui, and many other mystery schools. I am available for chat and phone sessions, offering a variety of payment options. Learn more about me and schedule a session with me through my
Psychic Scoop
profile page.
Comments
comments