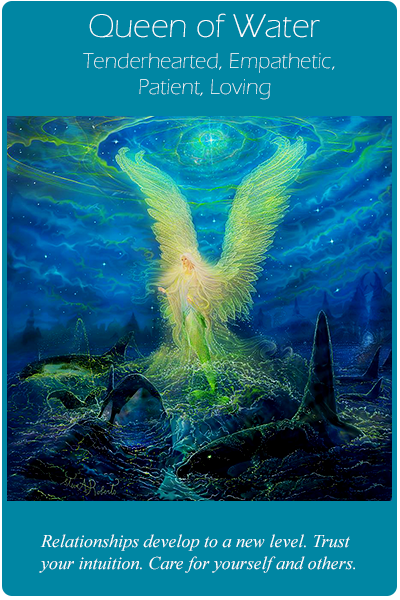 Tarot Card of the Week: Mar 14 – Mar 20
Queen of Water
This week's card is the Queen of Water from Doreen Virtue's beautiful Angel Tarot Cards.
This card is also known as the Queen of Cups, and is associated with the Queen of Hearts in traditional playing cards.
According to this card, the Queen of Water is Tenderhearted, Empathic, Patient and Loving.
In this version, she's represented by a glowing angelic figure that emerges from the depths of the ocean and watches over the sea creatures that surround her.
The colors in this card correlate to the heart, throat and third eye chakras and to the emotional and spiritual realms.
The text at the bottom of the card says: "Relationships develop to a new level. Trust your intuition. Care for yourself and others.
This week our very own Psychic Jen offers a video interpretation of this card, along with insights into its meaning as well as what it can mean for you personally in the week ahead:
---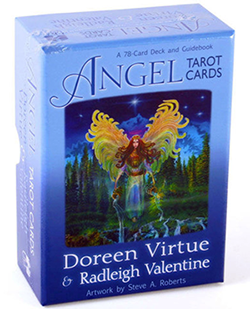 This week's card — Queen of Water — comes from the beautiful Angel Tarot Cards, by Doreen Virtue and Radleigh Valentine, with artwork by Steven A. Roberts.
This deck was published in 2012 by Hay House and is also available for purchase through Doreen's Angel Therapy website.
You can also download these cards in app form for Apple and Android devices on the itunes website.
And be sure to visit and "like" Doreen Virtue's Facebook Fan page!
---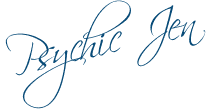 I offer live psychic chat readings via my personal chat room and am also available by appointment. Payment buttons are on the right.
Be sure to check out my weekly radio show on A1R Psychic Radio Tuesdays at 9:30 pm Eastern time.
You can read more of my articles right here on the Psychic Scoop website.
Also check out my book: You Only Better.
Comments
comments