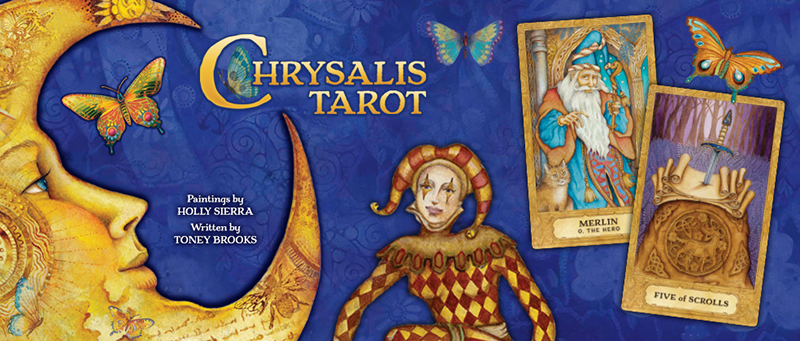 Tarot Card of the Week: Feb 13–Feb 19, 2017
Page of Mirrors
This weeks' card is the Page of cups from the wonderful Chrysalis Tarot by Toney Brooks and Holly Sierra. (in this deck the card is called "Page of Mirrors"). What a wonderful card to herald Valentine's Day and the gentle energy blooming this week!
Our conscious minds are always whirring and it's all too easy for our logical, intellectual circuits to take over. We see the logic in our current situation and are constantly trying to size up what works and what doesn't; what will cause us harm and what will bring us joy. As adults we learn to peek around corners, to appraise danger, to doubt new opportunities.
The Page of Mirrors (cups) is all about the part of us that resonates with heart and soul instead of just our adult, protective "logic." The Page of Mirrors is innocent, loving, romantic and comfortable gazing into the waters of intuition and emotion. She is free to follow her heart.
In many ways, this energy inspires creativity and innocence. The very nature of the intuition and the subconscious are reflected in this card and you might find yourself inspired with the kind of "aha!" that can only come in a surprising or unexpected brush with creative epiphany. That little voice that leaps past logic and gives us a stroke of genius whether about an artistic endeavor or how to handle a relationship.
In this image, the Page is using the power of emotional receptivity in a healing capacity. She is a seeker of truth, a teacher, and a comforter. But most of all, her healing powers are focused on the heart. Just as she's gathering honey for her healing balm, the bees who make the honey connect nectar from many different blossoms.
This week you're guided to follow your heart, and be open to new kinds of experiences and new kinds of encounters with loved ones. The people you meet and the encounters you have might be unexpected but they will have synchronicity and magic if you let your inner child come out of hiding and ditch your logical side a little bit. Romance, emotion, love and intuition are all part of this card's magic. Have a heart full week!
© 2017 Willow Brilliance in Sight/Psychic Scoop
Check out my website and BLOG for more goodies!

---
The card used for this week's Card of the Week — Four of Mirrors — comes from the Chrysalis Tarot by Holly Sierra and Toney Brooks.
This deck was published by US Games and is also available for purchase directly through the Chrysalis Tarot website and through Holly's Etsy storefront.
Here's Holly's Facebook page and the Chrysalis Tarot Facebook Fan Page. 
This deck is also now available for download for IPhone, IPad and Android devices through the Fool's Dog website.
Used by Generous Permission. 
Sessions
I'm available for personal readings and chat sessions.
Please email me or chat with me to schedule an appointment for a 10, 15, 30, or 60 minute session.
you can visit with me via my chat messenger that anyone can use.
Please let me know your time zone and the times most convenient for you.
Want to read more articles like this? Visit my website:Brilliance In Sight.
You can also read more of my articles here.
---
Willow is a natural psychic who's been studying and practicing metaphysics for over 25 years.
In addition to working with local clients and students, she is able to consult with clients all over the world. She is also phenomenal artist, writer and teacher who contributes to numerous websites.
She is available for chat and phone sessions, offering a variety of payment options. Learn more about her and schedule a session with her through her
Psychic Scoop
profile page.
Comments
comments