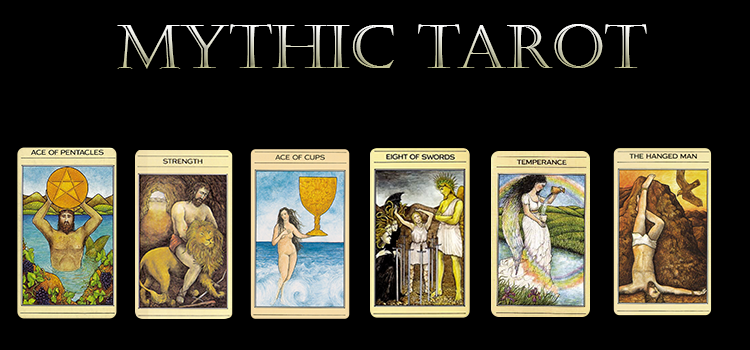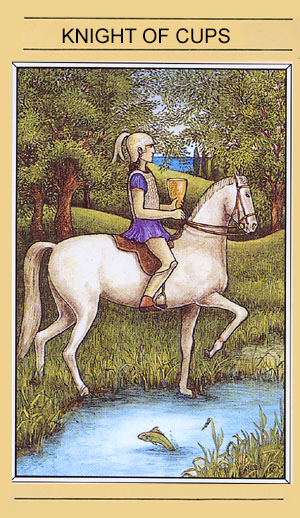 Tarot Card of the Week: Nov 2 – Nov 8, 2015
Knight of Cups
Did you know the Knight of Cups LIVES THE IMPOSSIBLE DREAM?
This week the appearance of the Knight of Cups indicates that something is going to change or that something previously hidden will be revealed!
You might get swept off your feet and fall in love — or something hidden might be revealed to you — or someone might show up from the past — or you might receive an invitation — or you might start a new friendship or new relationship — or you might receive a commitment or proposal of marriage.
The Story of the Knight of Cups — Mythic Tarot
In Mythic Tarot, you meet Perseus — he was the son of Zeus (the immortal king of the gods and ruler of fate and destiny), and his mother was Danae (a mortal woman).
In Greek Mythology, Danae and her infant (Perseus) were locked in a chest and thrown into the sea by Danae's father (Acrisius) to prevent a Delphic Oracle Prophecy from coming true (the king was warned that his daughter would bear a son that would kill him).
Meanwhile, Danae and her infant (Perseus) were saved by water-deities and ended up in the protection of King Polydectes of Seriphos. The king instantly fell in love with Danae and courted her for many years, but when  Perseus got older, he decided the king was not good enough for his mother and made the king very angry!
The angry king decided to get even with Perseus and get rid of him, so he sent him on a mission to get the head of the UNCONQUERABLE GORDON MEDUSA (the she-monster).
However, the king failed to understand that Perseus was loved and adored by others. Let's start with the Graeae (the three crones who shared one eye and knew the future). The Graease told Perseus where to find the she-monster to help him, and Athenen gave him a magic shield that would later kill the SHE MONSTER when she looked at her reflection.
On his journey home Perseus rescued a beautiful maiden (Andromeda) from a sea-monster and married her. Upon his return to Seriphos, he killed King Polydectes, then returned to his birthplace with his bride and mother where he accidently killed Acrisius, thus fulfilling the prophecy of the Great Delphi Oracle.
Perseus' desire to champion woman in distress, defend high ideals, pursue truth, and embrace romanticism make him an unusual hero because he is the underdog that takes the side of the less fortunate.
The Knight of Cups Tarot Card
The Knight of Cups represents the arrival of a new love interest, an invitation, or proposal of marriage. The Knight holds a golden cup (treasure of true love) connected to fire (passions), water (emotions) and the Moon (the feminine). The Knight is focused on the cup, his guiding north star, pointing him in the direction of unconditional love and the woman he longs to meet.
The Knight of Cups is enumerated twelve (12), a number representing 1+2 added together to equal the sum of 3. 1 (Ace of Cups) represents a new beginning, 2 (Two of Cups) represents a relationship, and 3 (Three of Cups) represents weddings, the birth of a child, celebrations, and achieving a long-awaited goal or dream.
The Knight of Cups is a young traveler on a mission, moving at a moderate pace, looking for his Princess. He is a charming, flirty, emotional, intuitive, romantic and seductive young man, full of passion, who lives in his imagination, is a dreamer, and is ruled by his heart, not his head. The Knight looks to his intuitiveness to provide him with direction when he needs to make decisions.
He has a positive and negative side to his personality. One minute he can be exciting, stimulating, romantic, supportive, and generous = positive position, and the next minute unfaithful, uncaring and selfish = negative  position.
The fish jumping in the pond represents the Knight is very complex with an over-sensitive personality, but when he is ready to settle you can expect commitment or a proposal of marriage.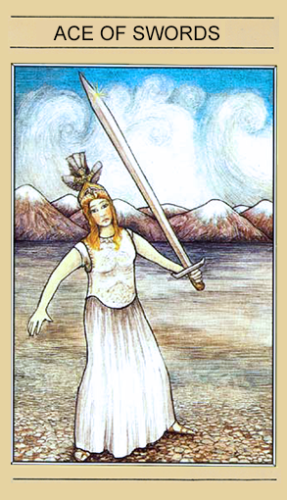 Positive Position: This card is indicative of change which may be related to an invitation, love, a friendship, relationships, commitment, or proposal of marriage if crossed by a positive card.
You may meet a counselor or mentor, a time when you're reaching out for help because of a relationship problem, or you're ready to follow through with an important dream and follow your bliss.
You might hear unexpected gossip related to a love interest or your negative emotional state may improve.
You may receive a message from a close friend, or a romantic interest may contact you. However, I do not trust the Knight of Cups. You should have a clarifying card pulled to cross the Knight to determine intentions. Are the energies positive or negative?
I pulled the Ace of Swords and this card came out in the positive position and shows that you are going to make a decision.
The Ace of Swords controls your relationship path and represents where you're headed, into a new beginning, or into an ending because a decision was made. The Ace of Swords represents bravery and suggests that you'll take a leap into something as long as it is in your best interests.
The Ace also rules your ability to be assertive, honest, of precise judgment, and not easily swayed by others. The Sword will cut through the gray areas to find truth and clarity in any situation to make the right decision.
Negative Position: An unwelcome change may disrupt your life. There could be unexpected delays, surprises, or unanticipated cancelations involving a friend, counselor, mentor, or date. A relationship may dissolve because you are unwilling to spend the time to make it work.
You may hear gossip that was created by an open enemy in conjunction with a hidden enemy in order to destroy your reputation.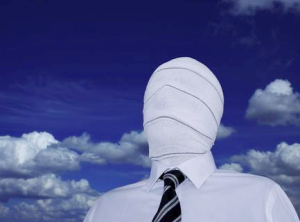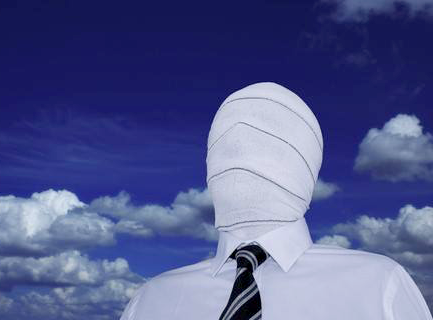 The negative position also represents the INVISIBLE MAN.
He leaves your life and you never hear from him again!
Timing is usually immediate, 1 – 12 days, or related to the fall season.
---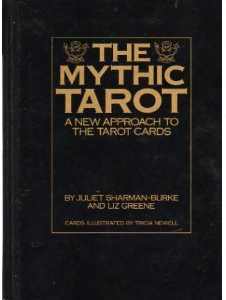 This week's card — the Knight of Cups — comes from the original Mythic Tarot by Juliet Sharman-Burke and Liz Greene.
This version, illustrated by Tricia Newell and distributed by U.S. Games is no longer available. 
A newer version — the New Mythic Tarot — is still in print.
 This deck can also be downloaded as an app for IPhone, IPad and Android devices through the Fool's Dog website. 

Sessions

I am available for live chat, phone or Skype sessions. Please feel free to email me to schedule a session if you don't see me live, or you can leave a message for me in the contact form below. I look forward to speaking with you!

---
This article first appeared on Lotus Tarot
You can also read more of my articles here.
Comments
comments