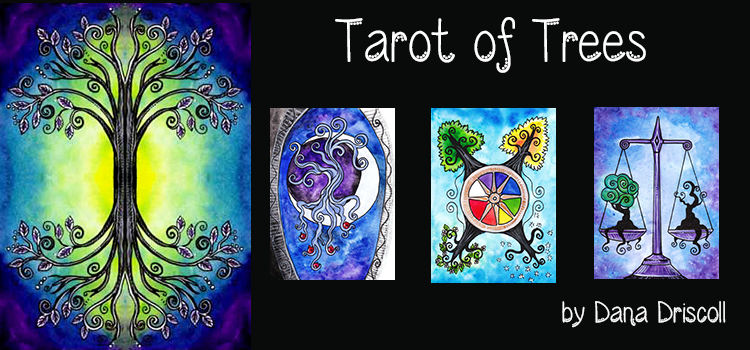 Tarot Card of the Week: Mar 7 – Mar 13, 2016
Judgment
One little thought can go a long way. This week's card — Judgment from Dana Driscoll's Tarot of Trees — ties in beautifully with the upcoming New Moon (super moon) Total Solar Eclipse (on March 8th/9th).
If you are trying to decide something or feel you are being judged by others, take note that what you actually think about yourself holds a lot more weight than what others do.
When it comes to your life you are the only person you have to answer to so don't go running around in circles trying to please everyone else as you may end up pleasing no one… least of all yourself.
Look at the root system in the lower image of the card. There is a striking resemblance to a figure running around with new growth sprouting from their head.
In front of them is another image but that image has fallen over and not taken root itself even if it still feeds into the system of growth.
Such is it also with your life. You may be called upon to make decisions this week in which way you want to go with a particular matter you have been pondering over for a while. Keep in mind that you may not be able to lay down the foundations to change everything all at once.
For you to go down the path you decide on will require certain steps. Look at it as if you are watering the seeds of change and growth just now even by allowing the process of thinking of what you want to happen in your own mind.
As the seeds take hold and burst through the fertile ground, nourished by yourself and your thought processes, they come into contact with the sun and rain. At this point new growth emerges that can be seen from the ground up and it is then that you have the potential to carry out your decisions knowing that you have laid a firm groundwork behind that which you wish to accomplish.
Remember… it all starts with one thought.
---
This week's card  — Judgment — comes from the beautiful self-published Tarot of Trees by Dana Driscoll.
This deck is now in its third printing and is available for purchase through Dana's Tarot of Trees website.
Please also visit and "like" this deck's Facebook Fanpage. 
You can purchase this deck in app version for iPhone/iPad and Android devices through the Fool's Dog website. 
Used  by generous permission. 
---
I am available for live phone, Skype or chat consultations in 10-, 30- and 60-minute increments. I am located on the beautiful mid north coast of New South Wales in Australia. I am on AEST.
I am available for live phone and chat sessions at a per-minute rate or through Click4Advisor. Or if you prefer a flat rate session, I am available via phone (AUS callers only), chat or Skype through PayPal. My rates and chat buttons are available on my sidebar on the right.
Please email me to schedule an appointment if you choose one of the PayPal options or if you do not see me live. You can also add me to Skype:
» Get Skype, call free!
I am an international psychic with an extensive client base and also write articles and horoscopes for several psychic sites. My readings usually focus on the present and immediate future but also look at the past to see where the problems you are facing right now have originated.
This can help you in finding your best way forward as it can show you how to change patterns in relationships and take control again.
I am available for skype, chat and phone sessions, offering a variety of payment options. Learn more about me and schedule a session with me through my
Psychic Scoop
profile page.
Latest posts by Chrisalis (see all)
Comments
comments