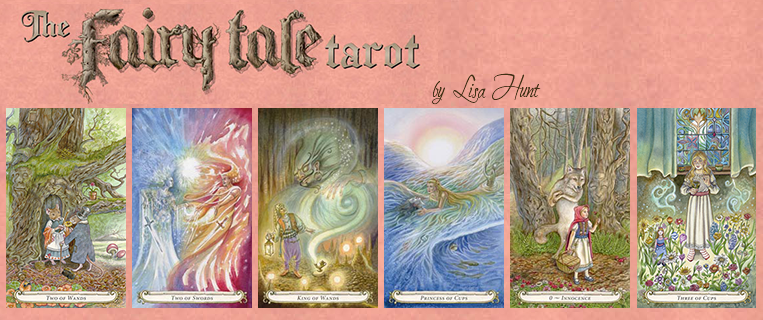 Tarot Card of the Week: Sept 12-Sept 18, 2016
Four of Wands
This week's card is the Four of Wands from the Fairy Tale Tarot deck;  here we see Jack descending the famous beanstalk.  The beanstalk symbolizes success, upward mobility, growth and inspiration and Jack (clad in purple, the colour of wealth and gutsiness) is heading back down, carrying his bag of goodies.
The lady bug perched on the leaf symbolizes luck and success and the many tendrils and glowing wands signify that many other fortunate paths and opportunities lay ahead.  The crow, however, also warns Jack that he has to take a rest and enjoy his hard earned loot from the land of giants.
Four of Wands: a sense of homecoming
This card is all about that magical sense of, "WHEW! I made it"  a sense of homecoming.  One of the most positive cards in the traditional tarot, the four of wands indicates stability, harmony peace and prosperity.  The work has been done and you can take a deep breath and enjoy the celebration of your life.  Be proud of what you have accomplished , and allow that feeling of peace and satisfaction to settle in your heart as you get home from your own beanstalk adventure this week.
This is a time of attainment, of goals being met and of success in some aspect of your life.  That sense of "homecoming" sometimes symbolizes the kind of stability and prosperity that directly relates to your actual home too.  If you've been working on  house renovations, finding a home, or even making your existing home environment more stable and abundant, this is a positive time.
Life is ready to give you some magic beans
If you've been feeling scared or daunted about the path you're on, the four of wands gives reassurance that no matter how hard things seem, you will reach that place of stability and joy if you stick with it.
Some of the best things in life come with challenges. Life is ready to give you some magic beans… if you're willing to take the risk and work hard for your goose with the golden egg. Jack had to not only tangle with giants and make a heck of a climb, he had to also contend with the ire of his mother after selling her only cow for some lousy legumes.  There's always a risk in any huge phase of growth, but you have everything you need to do just that.
Have a wonderful and prosperous week, filled with success, prosperity and peace.  If you would like a reading about your own "magic beans" or tangles with giants, please send me a note for your own personal reading.
---
The Fairy Tale Tarot by Lisa Hunt is a 78 card deck and accompanying  book published by Llewellyn Publications.
This beautifully illustrated deck combines the traditional tarot with a spin from Fairy Tales and folklore. Very inventive and great for anyone that likes folklore, archetypal stories, and myths. 
Be sure to visit and like this deck's fan page on Facebook. It is available for purchase through the Fairy Tale Tarot site or on Amazon, and is also available as an app for iPhone/iPad and Android devices from the Fool's Dog website.
---
© 2016 Willow Brilliance in Sight/Psychic Scoop
Check out my website and BLOG for more goodies!
I'm available for personal readings and chat sessions.
Please email me or chat with me to schedule an appointment for a 10, 15, 30, or 60 minute session.
you can visit with me via my chat messenger that anyone can use.
Please let me know your time zone and the times most convenient for you.
Want to read more articles like this? Visit my website:Brilliance In Sight.
You can also read more of my articles here.
---
Willow is a natural psychic who's been studying and practicing metaphysics for over 25 years.
In addition to working with local clients and students, she is able to consult with clients all over the world. She is also phenomenal artist, writer and teacher who contributes to numerous websites.
She is available for chat and phone sessions, offering a variety of payment options. Learn more about her and schedule a session with her through her
Psychic Scoop
profile page.
Comments
comments