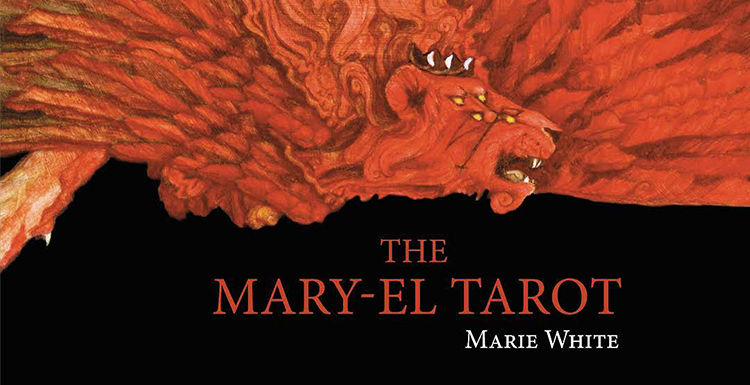 Tarot Card of the Week: July 24 – July 30, 2017
Five of Cups
You may be dealing with relationship issues this week that force you to face some difficult realities. You could be struck by a sense of discontent and disillusionment over what once seemed like a "magical" union but is now developing cracks. Misunderstandings or miscommunications can abound, sending you hurdling back to earth and back to the reality of your situation.
Look at the imagery in this card. We see a mythical Unicorn seated atop an old-fashioned wishing well. At first glance it looks like something you'd expect to come across in a fairy-tale. But if you look closer, you can see that the Unicorn is not seated at all. He's trapped in the well and has been hobbled, immobilized by his unfortunate circumstances.
The water flowing from the sides of the well has slowed down to a trickle. He looks away from the set of withering vines on the left and toward those that are lush and plentiful on the right. The skeleton key symbol over his heart is reminiscent of the astrological glyph used for Greek Mythology's wounded healer, Chiron.
How might this imagery apply to you? And what can you learn from the circumstances that make this card now relevant in your life?
The Five of Cups — this version from the beautiful Mary-el Tarot — can refer to heartache, disillusionment and lost love. You could be stuck in rut, reeling from a rejection or coming to terms with a relationship that was never meant to be. You may also—just like the Unicorn in this card—be refusing to see what no longer sustains you. There is as much danger in not learning from your mistakes as there is in focusing only on what might be.
But there are positive aspects of this card as well. There are messages to be unraveled and lessons to be learned. Perhaps the "wounded healer" aspect provides you with an insider's understanding of what it's like to hurt, to be alone, and to be denied the very thing you've so desperately wanted.
Your heartache becomes a powerful conduit for healing. It can also become a gift that you pass onto others: the gift of empathy. Your own experiences lead to a deeper understanding of what others may be dealing with, and can translate into compassion, understanding, forgiveness and unconditional love.
You already know that when you try to rush something to completion before its time you run the risk of losing all the momentum you've already gained. So for now, step back and focus on how far you've come rather than allowing yourself to wallow in frustration over how much is left to be done.
---
This week's card of the week — Five of Cups — comes from the Mary-el Tarot by Marie White, published by Schiffer Publishing.
Used by generous permission. Original art, as well as full-sized prints, are also available on her Etsy Shop.
Please check out and "like" this deck's Facebook Fan page. 
Thank you Marie!
---
Sessions
I am available for live phone, Skype or
chat consultations
in 30 and 60 minute increments at the rate of $3 per minute for 30 minute sessions and $2.50 per minute for 60-minute sessions. I am also available for phone or chat through Click4Advisor at $3.99 per minute.
Please note that I do not offer free readings and these are the lowest rates you will find me at online. I am located in the US, in the Eastern time zone.
Feel free to pop into my chatroom if you see me available live, or email me to schedule a session if you don't. PayPal and Click4Advisor links are accessible through the sidebar on the right.
» Get Skype, call free!
A version of this card first appeared in 2014  on the Ask the Astrologers website.
I am a professional astrologer and spiritual advisor with more than 30 years' experience. I am proficient in astrology, tarot, numerology, the enneagram, feng shui, and many other mystery schools. I am available for chat and phone sessions, offering a variety of payment options. Learn more about me and schedule a session with me through my
Psychic Scoop
profile page.
Comments
comments