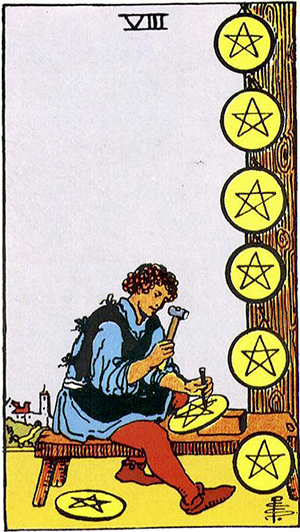 Tarot of the Week: Sep 5, 2016- Sep 11, 2016
Eight of Pentacles
Tarot Card of the Week: The Eight of Pentacles  – Raising the Bar to Achieve a Dream.
This week, you might be raising the bar to achieve a dream and hammering away at obstacles to achieve success.
The planet Mercury is retrograde in the zodiac sign of Virgo and you might be dealing with Murphy's Snafus (unexpected obstacles).
Just keep hammering away and don't give up on your dream.
On the bright side, Mercury Retrograde is the time when we turn our thoughts inwards and we are more tuned into our intuition!
The Eight of Pentacles is all about entering the apprenticeship phase. In the upright position, this card means you raised the bar to achieve success.
The obstacles of the past will be history because you hammered away at the work load and did not give up.
The Eight of Pentacles is associated with the planet Mercury (how the mind works) and the zodiac sign of Virgo (the combination of Mercury in Virgo makes you work hard and pay attention to details).
The Eight of Pentacles refers to: receiving a degree, diploma, certificate, on the job training in an apprenticeship stage, staring over with a new career, a new job, promotion, self-employment, or new hobby/project.
The Eight of Pentacles also is also related to becoming: a teacher, mentor, tutor, or training/sponsoring others to help individuals develop their talents.
You might be in a secure relationship, or you might decide to make a commitment, or decide to start a family.
The Eight of Pentacles is enumerated eight, the number of power and personal achievements.
The Eight of Pentacles is related to an important event of dedication to succeed that is turned into action. This event may occur in months or years to come.
---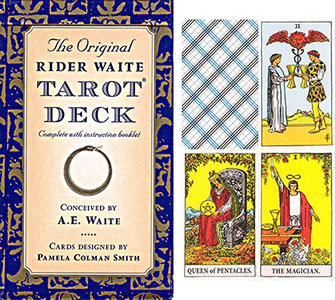 The Rider-Waite Tarot Deck cards were drawn in 1909 by Pamela Colman Smith under the direction of Arthur Edward Waite.
The deck is available through the publisher, U.S. Games Inc.
It is also available through Amazon.
Sessions

I am available for live chat, phone or Skype sessions. Chat and payment links are at the top right of this page.
Please feel free to email me to schedule a session if you don't see me live.
I look forward to speaking with you!

---
You can also read more of my articles here.
---
Comments
comments