Tarot Card of the Week: June 26 – July 2, 2017
Lizard
This week you may find yourself needing to defend your belief systems to others. You may be called upon to stand your ground and express your views with courage and conviction.
This is not going to be the time to waiver or back down. It's all about standing up for what you believe in, even if you find yourself at odds with the masses.
The Lizard — or Seven of Branches in the Animal Wisdom Tarot — is associated with the Seven of Wands in traditional tarot. It's all about holding your ground and not allowing yourself to be backed into a corner. It's about refusing to take the easy way out or to concede defeat.
Look at how vibrant and colorful this lizard is. He's not about to be toned down or forced into complacency. His confidence may be bolstered by the branches that frame him on either side, but you can see that they offer little protection.
The rainbow behind him though says that he's standing up for something he truly believes in. His ideals are noble and his intentions are grand — even as he loudly proclaims them.

Tarot Card of the Week: Jun 12 – Jun 18, 2017
Knight of Wands
Your energy levels should be high this week with Mercury trining Jupiter and the Moon conjunct Uranus in Aries. These transits allow for a freedom that you may not have felt recently.
Like the Knight of Wands in this card — from the Joie de Vivre Tarot — you seem to have a spring in your step and a devil may care attitude that anything you set out to do can be accomplished.
This is throughout all aspect of your life. From the round coin shapes under your feet to the love hearts you are about to land on… it's all like frosting on the cake and there for your pleasure.
Any correspondence or communications you need to catch up on can go a bit more smoothly this week, and if there's a situation that has been making you nervous or ill at ease to the point that you want to escape but don't know the best way to go about it, you may just find yourself throwing caution to the wind and just moving on.
Nothing is going to hold you back. The Knight of Wands tells you that everything you want to achieve is yours for the taking. The sky is the limit — you just need to give it everything you have as you reach for your goals.
Tarot Card of the Week: May 29 – Jun 4, 2017
White Tiger Nine
Life may be catching up with you this week as the White Tiger Nine sweeps in with the promise of… well perhaps a change in your luck and not necessarily for the better.
This is the Feng Shui Tarot's version of the Nine of Swords, which is known as a card of struggle and strife. From the image on this card you can see that the path before you is not a straightforward one, albeit that you are not in the flames, you are nonetheless walking a very fine line between things going ok and things taking a turn for the worst.
Keep this in mind if you have anything big to do this week, and don't try to push for more than you naturally believe you deserve and even then you may wish to push for a bit less than that.
A white tiger is a rare creature and if you are feeling as if the world is against you this week then bear in mind that you are perhaps a little out of your depth when it comes to the direction you are seeking to take and that the path will not be easy.
If you look in the background of this card there is a reminiscent scene from Gone With the Wind in which people are running from something and a horse is rearing its front legs as if in fright.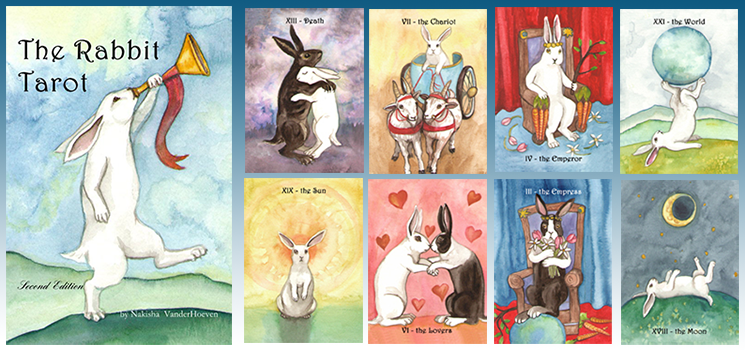 Tarot Card of the Week: May 15- May 21, 2017
 Seven of Tulips
If you aren't careful with what you are doing this week, you may just inadvertently make a huge mistake.
If you have papers to sign, contracts to read over, etc make sure you do so twice and don't sign anything that you don't understand.
The Seven of Tulips — (the Rabbit Tarot's version of the Seven of Cups) can be a card of confusion. It can also show that you are away with the fairies somewhat and not completely grounded. It can see you putting faith into empty promises, or can turn wishful thinking into later regrets.
Here we see a cute little rabbit picking pink tulips whilst at the same time not looking at what she is doing and also looking for all the world as if she has her head in the clouds (literally).
The best that can be said is that if there is a middle ground or middle of the road stance for you to take on something today then do it. Don't rock the boat and don't go pushing into any arguments that you don't have any right to be in.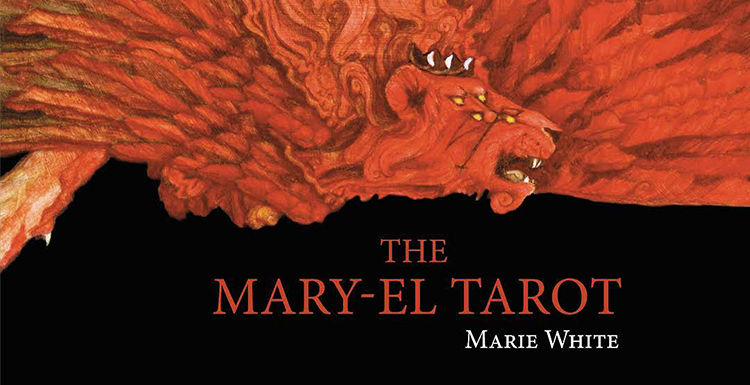 Tarot Card of the Week: May 1 – May 7, 2017
Ten of Wands
You may have to muster up the strength, determination and fortitude this week to do what must be done, even if the task before you seems daunting and overwhelming.
The Ten of Wands — this version from the stunning Mary-el Tarot — is all about rising to the occasion and taking care of business, no matter how difficult or arduous that may be. It's about stepping up to the plate and shouldering responsibilities — or like the figure in this card, moving through hell or high water to get the job done.
What do you think would happen if the man and his were to slow down or stop in their tracks? They'd be consumed by the flames that are already engulfing them. They'd surely perish on the spot.
The idea here seems to be that once the task is started there's no turning back. The rider pledges his commitment (notice his hand held over his heart) and the horse gathers speed.
He may have taken on more than he thinks he can handle, but he's not going to throw in the towel. This is the essence of the Ten of Wands. Upholding your responsibilities may be more than you bargained for, but that doesn't excuse you from doing them.

Tarot Card of the Week:  April 24 – April 30, 2017
Nine of Pentacles
Nine of Pentacles, the card of the week, comes from one of my favorite decks, the Deviant Moon Tarot by Patrick Valenza.
The deck was given to me as a gift. At first look of the box, I wasn't sure I would like it but felt a pull to open it and now I use it a lot in my readings.
If you should be lucky enough to have the Nine of Pentacles come up in the present or future of your reading, it can mean something good in a monetary or material situation is coming your way.
Looking at the picture on the card, you see an independent and confident woman taking a walk with her little pet. There are pentacles dropping down around her indicating good things are coming to her.
The Nine of Pentacles represents The Lord of Material Gain, the element of Earth, the direction of North and the Season is Winter. The Zodiac signs are Taurus, Capricorn and Virgo. Dark grapes are the herbal associated with the nine of pentacles. Dark grapes are good for your blood, high in iron and the leaves are often used in astringents.This card usually signifies monetary / material gains. It can come from unexpected sources like an inheritance, winnings, settlements or monetary gifts.

Tarot Card of the Week: April 10 – April 16, 2017
King of Swords
There is strength in words this week, both written and spoken. The King of Swords has a very quick mind. He is intellectual, clever and in a state of activity.
This week you may find that you are constantly on the go, and it won't be because of the full moon energy. You have so many things to take care of that you don't get a chance to sit down. As soon as one thing I finished something else pops up to take your attention.
As can be seen from this image in the Connolly Tarot's version of the card, you have the capacity, imagination and intellect to see your ideas through but you may find there are so many things happening at once that you overlook something.
A list may help with this as you seem to be so inundated that what you miss is something that is needed and shouldn't be forgotten. If you keep in mind that Mercury has just turned retrograde, on the April 10th, then you get the idea of what you are up against.
So much to do, so little time to do it in and all the while you are fighting against communication mix ups.