This Week's Featured Reader is Chrisalis. She is an international psychic with an extensive client base and also write articles and horoscopes for several psychic sites.
Her readings usually focus on the present and immediate future but also look at the past to see where the problems you are facing right now have originated. This can help you in finding your best way forward as it can show you how to change patterns in relationships and take control again.
Sometimes you may feel confused and not sure of your way forward. To help ground yourself before speaking with her you may wish to ask yourself the following questions. What is going on for me at the moment? What is it that I need or want? How do I make it happen? She feels it is good to have a focal point for yourself and where you are "at" after all this reading is for you even if it involves another person.
Chrisalis is open and friendly. She does not offer spell work. She believes we all create our own luck and we all have the power to choose our own destiny. Her readings follow what is in the confines of your own destiny but you have the ultimate decision in what you do with my advice.

Card of the Week: July 31 – Aug 6, 2017
The Magician
As Uranus officially turns retrograde in Aries this week, you may see many ideas presenting themselves in a whole new light, along with the means to accomplish them.
The Magician card reminds you that you have everything you need at your disposal. If you have been having a hard time putting your skills to the test at work or with something you are wishing to build this is the time you find that everything falls into place for you.
You have the energy, drive and ambition to reach your goals all you need is to take that first step to launch in the direction you wish to find yourself. By being practical and following your heart you can shed that which is not working for you and take on a whole new persona in relation to your work.
The colors on this card — from the Golden Tarot of Klimt — give an idea as to the attributes which surround you. The brown background keeps you stable and practical, while the red on the dress shows determination and action and the yellows represent the ideas that you have.
Notice the snake curling around the right arm as if something is consciously being shed and changed in order to tune into what you wish to accomplish.

Card of the Week: Jul 17 – Jul 23, 2017
Queen of Cups
This week is going to be about taking care of yourself as well as others and if there has been any unbalance between the two lately then it's time to take a look at that.
There is a touch of the fairy about this image — the Queen of Cups from Nathalie Hertz's fantastic Faerie Tarot — and predominance of the colour green shows that there is healing around for you.
You may wish to choose where and whom you deliver this healing to as if you need more energy for yourself there is no use giving it out to others when you could be replenishing your own reserves.
Any pet project you have going on or in the pipeline will need careful surveying today and the finishing touches may need to be put in place.
There is help at hand for this as the white petals float down from the tree in the background giving new thoughts that come from nowhere to help you.

Tarot Card of the Week: Jun 12 – Jun 18, 2017
Knight of Wands
Your energy levels should be high this week with Mercury trining Jupiter and the Moon conjunct Uranus in Aries. These transits allow for a freedom that you may not have felt recently.
Like the Knight of Wands in this card — from the Joie de Vivre Tarot — you seem to have a spring in your step and a devil may care attitude that anything you set out to do can be accomplished.
This is throughout all aspect of your life. From the round coin shapes under your feet to the love hearts you are about to land on… it's all like frosting on the cake and there for your pleasure.
Any correspondence or communications you need to catch up on can go a bit more smoothly this week, and if there's a situation that has been making you nervous or ill at ease to the point that you want to escape but don't know the best way to go about it, you may just find yourself throwing caution to the wind and just moving on.
Nothing is going to hold you back. The Knight of Wands tells you that everything you want to achieve is yours for the taking. The sky is the limit — you just need to give it everything you have as you reach for your goals.
Tarot Card of the Week: May 29 – Jun 4, 2017
White Tiger Nine
Life may be catching up with you this week as the White Tiger Nine sweeps in with the promise of… well perhaps a change in your luck and not necessarily for the better.
This is the Feng Shui Tarot's version of the Nine of Swords, which is known as a card of struggle and strife. From the image on this card you can see that the path before you is not a straightforward one, albeit that you are not in the flames, you are nonetheless walking a very fine line between things going ok and things taking a turn for the worst.
Keep this in mind if you have anything big to do this week, and don't try to push for more than you naturally believe you deserve and even then you may wish to push for a bit less than that.
A white tiger is a rare creature and if you are feeling as if the world is against you this week then bear in mind that you are perhaps a little out of your depth when it comes to the direction you are seeking to take and that the path will not be easy.
If you look in the background of this card there is a reminiscent scene from Gone With the Wind in which people are running from something and a horse is rearing its front legs as if in fright.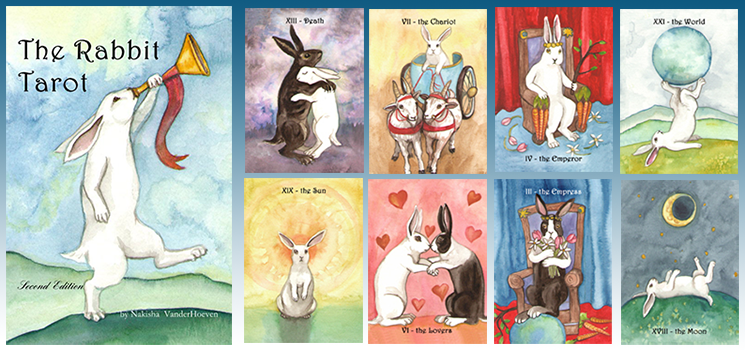 Tarot Card of the Week: May 15- May 21, 2017
 Seven of Tulips
If you aren't careful with what you are doing this week, you may just inadvertently make a huge mistake.
If you have papers to sign, contracts to read over, etc make sure you do so twice and don't sign anything that you don't understand.
The Seven of Tulips — (the Rabbit Tarot's version of the Seven of Cups) can be a card of confusion. It can also show that you are away with the fairies somewhat and not completely grounded. It can see you putting faith into empty promises, or can turn wishful thinking into later regrets.
Here we see a cute little rabbit picking pink tulips whilst at the same time not looking at what she is doing and also looking for all the world as if she has her head in the clouds (literally).
The best that can be said is that if there is a middle ground or middle of the road stance for you to take on something today then do it. Don't rock the boat and don't go pushing into any arguments that you don't have any right to be in.

Tarot Card of the Week: April 10 – April 16, 2017
King of Swords
There is strength in words this week, both written and spoken. The King of Swords has a very quick mind. He is intellectual, clever and in a state of activity.
This week you may find that you are constantly on the go, and it won't be because of the full moon energy. You have so many things to take care of that you don't get a chance to sit down. As soon as one thing I finished something else pops up to take your attention.
As can be seen from this image in the Connolly Tarot's version of the card, you have the capacity, imagination and intellect to see your ideas through but you may find there are so many things happening at once that you overlook something.
A list may help with this as you seem to be so inundated that what you miss is something that is needed and shouldn't be forgotten. If you keep in mind that Mercury has just turned retrograde, on the April 10th, then you get the idea of what you are up against.
So much to do, so little time to do it in and all the while you are fighting against communication mix ups.