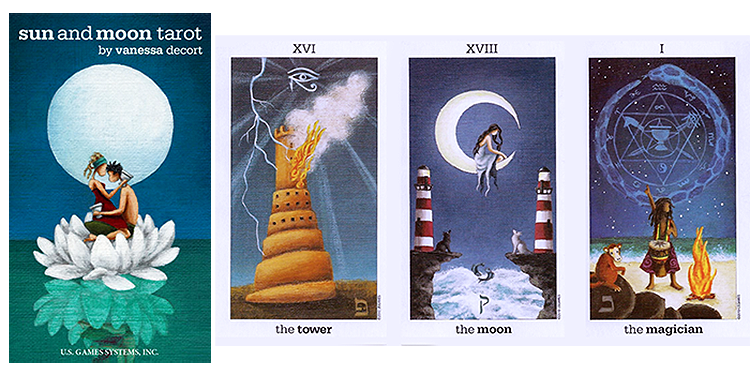 Tarot Card of the Week: Aug 28 – Sep 3, 2017
Nine of Pentacles
Now is the time to count your blessings and to express gratitude for all of the wonderful things you've accomplished in your life.
The Nine of Pentacles speaks of shifting your attitude to one of gratitude. It speaks of attracting abundance and prosperity — not just with respect to money and material possessions, but also to your own sense of self-worth.
It's about being grateful for all you've acquired and recognizing that you deserve it. It's about developing a prosperity consciousness, knowing that the Universe offers up unlimited abundance to those who do.
The Nine of Pentacles — this version, from Vanessa DeCort's beautiful Sun & Moon Tarot, is called "Gain" — represents that intricate and fulfilling balance between expressing gratitude and achieving prosperity.
It also refers to that sense of satisfaction that comes from knowing that you are where you are not because you've been lucky or have been the benefactor of someone else's generosity.
It's been through your own hard work and determination (as seen in the Eight of Pentacles) that's led you to where you are today. 

Tarot Card of the Week:  April 24 – April 30, 2017
Nine of Pentacles
Nine of Pentacles, the card of the week, comes from one of my favorite decks, the Deviant Moon Tarot by Patrick Valenza.
The deck was given to me as a gift. At first look of the box, I wasn't sure I would like it but felt a pull to open it and now I use it a lot in my readings.
If you should be lucky enough to have the Nine of Pentacles come up in the present or future of your reading, it can mean something good in a monetary or material situation is coming your way.
Looking at the picture on the card, you see an independent and confident woman taking a walk with her little pet. There are pentacles dropping down around her indicating good things are coming to her.
The Nine of Pentacles represents The Lord of Material Gain, the element of Earth, the direction of North and the Season is Winter. The Zodiac signs are Taurus, Capricorn and Virgo. Dark grapes are the herbal associated with the nine of pentacles. Dark grapes are good for your blood, high in iron and the leaves are often used in astringents.This card usually signifies monetary / material gains. It can come from unexpected sources like an inheritance, winnings, settlements or monetary gifts.