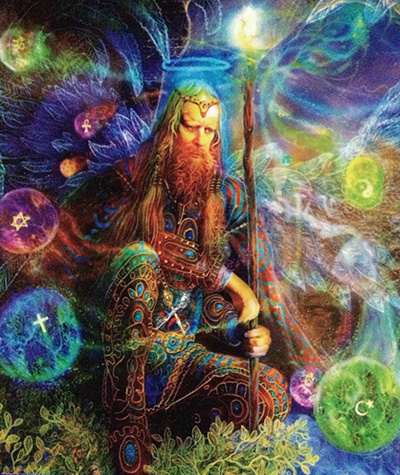 Hello! dear client and friend,
I was compelled to start a monthly meditation to connect with the angels and guides, and what better time than the beginning of each month?
We can all benefit from learning to access their loving guidance and assistance, especially in challenging times. Their presence in our lives can help us to better navigate the path ahead.
Each angel or archangel that comes forth symbolizes a group of messages, attitudes and lessons in their own. Leaving a brief explanation of those meanings and the different tasks that they are assigned to give us both a general broad, and personal reference that each of us can interpret and incorporate into our own different lives and present circumstances.
Therefore, I have decided to allow the name of the angel or archangel in question to come forth psychically. I will then follow some information about the angel selected.
This month, the archangel SANDALPHON made himself present.Sandalphon is depicted visually playing an instrument, as he is considered the Archangel of Music, especially when it is used to either contact with God, our divinity within us and using it to raise our vibrations, with the purpose of manifesting more good and helping us to connect to God, to ask, thank and venerate him.
He is also then the angel of prayer, he helps us taking our prayers to God. As he is a leader among the Seraphim, he occupies a very close place around the throne of God. He is said to work in a team with Archangel Metatron. Forming a creative team, in the assistance with manifesting change and achieving results through advocating to God.
A way to describe this symbiosis or angel team, would be viewing Metatron as the spirit and Sandalphon as the physical body, or the part closer to earth. Therefore, also Sandalphon can help and motivate us to the need of grounding ourselves and getting in touch with nature more….
What can this mean to you right now? As I said previously, you will be able to know how this talks to you at present in your life, but this is some of the clues or questions that you can ask yourself or intuit from Sandalphon's message:
"Do I need grounding and how can I achieve that?"
"What is my level of stress and anxiety and how can nature and quietness help me?"
"Am I in need or could I profit of meditation as a daily practice to reach my inner self and get in touch with God?"
"How can I reach my higher self and God through nature now?"
"Have I abandoned prayer and how can I go back to it in a way that my soul reaches out in a genuine way?"
"Do I ask for help to the angels, divinity and others who love me, or I isolated myself and try to do it all alone?"
"Do I need times of solitude or quite times to connect with my higher self, mother nature, or even the divinity in us?"
"Did I forget to listen to music, feel joy and celebrate life?"
In the times we are living, there is a message that calls to me from Sandalphon's presence and that is one of unity, connection, communion with the rest of humanity, mother nature, and God.
It reminds us that we are all one and all at once, that we are all connected and we can only reach our goal and divine purpose of inner peace and joy by helping one another within our world and without, as there is only one world, and one of us. Music and prayer can help us, and we are never alone. Reach out to nature, reach out to God, Sandalphon is there to help us.
God bless you,

I am available for live chat and Skype readings at the rate of $3.99 per minute.
Ask me about special flat-rate fees for sessions 1-hour or longer.
You can also reach me through my personal chat page, which is easy to use and accessible 24 hours a day.
If I am not available, you can also leave me a message and I'll get back with you within 24-hours.
Please visit my website and feel free to email me to schedule an appointment.
[skype-status skype_id="whitemeiga" user_name="Pat" button_theme="addme_classic" button_function="add" use_voicemail="on" use_getskype="on"]
The image of the Archangel Sandolphon in this article comes from the "Unity" card in the beautiful Angel Tarot Cards deck.
Comments
comments