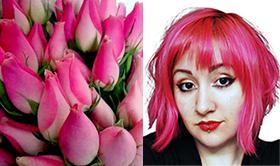 Hello, I'm Phoebe Rose. I am a second-generation astrologer, a natural empath and a life-long student.
At an early age, I realized I was able to see and feel things that others weren't able to. I began developing my skills through an intense study of the Tarot, Astrology, Numerology and Dream analysis, which greatly enhanced my own Psychic abilities.
I use the Tarot and Astrology in most of my readings, as these are extremely accurate and helpful tools to use and allow me to provide you with the best and most accurate advice and information possible.
I'm not here to run your life, or tell you what to do. I'm here to give you sound and accurate guidance and insight on the situations you are in, be it past, present or future.
You do possess free will — we all do. Your life choices are forever yours, and you are in control. My goal is to help you see the outcome of those choices and to steer you toward making the most of your destiny.
I am willing to provide timing for you with the understanding that your actions can alter the outcome. During our session we can discuss ways to maximize the best possible outcome for you.
Honesty, accuracy and integrity being my top priorities, I work very hard to give you the insight and information that you need.
When you contact me, please come with an open mind. If you weren't looking for guidance and insight, you wouldn't be here. 🙂
Guidelines for reading with me:
Try to frame your questions as clearly and directly as possible. The more information you're willing to give me about your situation, the better.
I am a Psychic, not a mind reader and I feel that "general" readings produce general results. If your questions are related to timing, I'll be happy to look at that for you. You should know though that there is no such thing as "time" in the Psychic realm. For that reason, and also because your actions can alter timing, I ask that you not put more emphasis on timing than outcomes.
Timing is extremely hard to pin down sometimes. Psychics can't help what we see, or when we see it. Please make note of this when asking about time frames. I do give them, but they may be a bit off, just like everyone else's.
Sessions
At this time I am only offering email readings.
You can choose between a mini (3-card) tarot reading (400 – 500 words) on the subject of your choice for $35, or a more comprehensive (12-card) relationship-centered reading for (1000 + words) for $60.
Please email me to schedule a reading, and allow 48-hours turn-around.
You can also read more of my articles right here on the Psychic Scoop website.