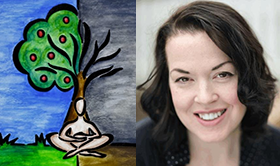 My name is Meilena. I am a Certified Psychic Clairvoyant Medium and Reiki Master, and a keeper of the light this means I can help keep you on your path of enlightenment and road to personal empowerment.
I work with my Spirit Guides to help deliver messages that are important for your growth and of your highest of greater good.  I am clairaudient and clairvoyant which allows me to see and hear the answers to your questions.
When you chat with me I might see images or symbols that provide me with information about your situation.  I'm also a clairsentient which means I can feel the energy of people, places, or things that surround your issue.
I can see important details that you might need to know to gain clarity and remove obstacles.  I have been helping my clients for over 20 years in relationships, career, personal decisions or business growth.  I can help you identify personal obstacles and work to overcome them. I can help you see if you are on your life path.
My readings are very compassionate and non-abrasive and focus solely on helping you transition into new phases of your life or identify direction.
Connecting with Loved Ones
I can help you connect with loved ones that have passed so you know that they are at peace and still around you.
Reiki Healing & Chakra Balance
During a reading with me I may detect a blockage of energy in your chakra system, if I do I will alert and confirm with you my findings and with your consent remove the blockage and balance your chakras.
Karmic Band Healing
If you are having an issue in your relationship and you would like healing sent to the energy band that binds you I can help repair this bond.  Healing energy can smooth out the issue and help lessen conflict or help ease hurt from past relationships.

Sessions
I am available for live chat sessions and look forward to speaking with you. Please visit my
website
or 
email me
to schedule an appointment or place your order below.
You can also leave me a message in the contact form below.
[contact-form-7 id="2531″ title="Contact form Meilena"]