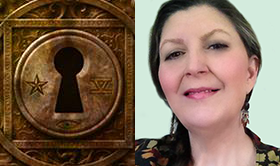 Welcome! For over 25 years my mission has been to help people just like you to find the answers and direction they need.
My Psychic abilities allow me to predict with accuracy, DATES AND TIME FRAMES, END RESULTS/OUTCOMES and to discern the character and motives/intent of those you have in question.
This is my passion! I'm noted for my compassionate tone and life coaching skills, as well.
I look forward to meeting YOU and treating you with the special attention I give all my clients! Contact me today for your reading!
Experience: 25 years experience as an Online Psychic Tarot Reader (as well as offline/psychic parties, festivals, fairs, phone work); Tarot Workshop Facilitator *ask me how you can learn to read the Tarot according to the same method I use: The Halo Method… super affordable online class.
About Me: I have been aware of my gifts since the age of 13 when I began to see Spirits in the room with me. The first experience I had with this was just after my grandmother, who I was very close to, had transitioned. She appeared to me in the entrance way of our home late one night when I couldn't sleep and had gotten up to find something to drink. I wasn't afraid and for some reason I didn't find it odd. Other appearances were seen for some years to come.
I learned to read Tarot cards under the mentorship of Carla Flack, Author of Tarot The Halo Method. I had been reading according to the traditional ways for some years but when I learned this little known yet fascinating and accurate method it changed everything for me. Suddenly, it was as if the angels could talk through the cards sharing a language spoken through use of my cards. As the years went by I modified the spread to be more suited to me and my Guides and have since made it a part of my daily life to help other people by doing readings.
I have read people from all over the world and from all walks of life whether it be someone in the military and far from home, same sex relationships, broken relationships.
I have successfully conducted psychic reading sessions for people from all over the world, from all walks of life including professionals in the corporate world, stay at home moms/dads, students, military folks and have even had fun reading for a few celebrities in the past! I look forward to meeting you!

Sessions
I am available for live chat or phone sessions through my personal chat page.
You can also email me to schedule a session.
Read my articles here on Psychic Scoop.