This week's question comes from the winner of a recent contest on Facebook where the prize was a free mini reading.
As we do sometimes offer promos on the various social networking sites, this is a good way to get your question submitted for consideration, along with submitting them to us directly.
This client had a question about her career path.
She said she felt like she was in a state of limbo and was wondering what steps to take to continue pursuing her career in metaphysics. The following is Fiona's response:
I have used the stunning Chrysalis Tarot for your reading. I have pulled three cards, past present and future. The Corsair (Knight of Spirals), Green Man (The Emperor) and Golden Flower (Temperance).
In the Past position we have The Corsair. He is independent and strong willed and his role is 'Mystic'. This indicates that your path has been leading you in this direction, possibly before you even realised! This card tells me that you have a warm positive energy and attract other older souls, empaths and seers. You may experience visions and foresight and you are not afraid to take risks. You may be a bit of a rebel. You live life on YOUR terms and do not enjoy conformity.
In the Present Position we have the Green Man. Again this card shows your 'mystic' qualities. Messages come to you in dreams, visions, memories and strong intuition. He urges you to trust in your gut instincts, take control of your path and believe in yourself. You ARE on the right path. You can achieve great things.
In the Future Position we have the Golden Flower. This is a wonderful card with calm stable energy. In traditional decks the Golden Flower is Temperance. She is an alchemist and can be seen on some decks holding two vessels, pouring liquid back and forth from one to the other. This represents balance, liquidity, stability and equilibrium. Her attributes are Harmony and Mediation. She is urging you to go within, the answers, the direction and the qualities required are already within you. The message she brings is that you are drawing closer to your own conscious awareness.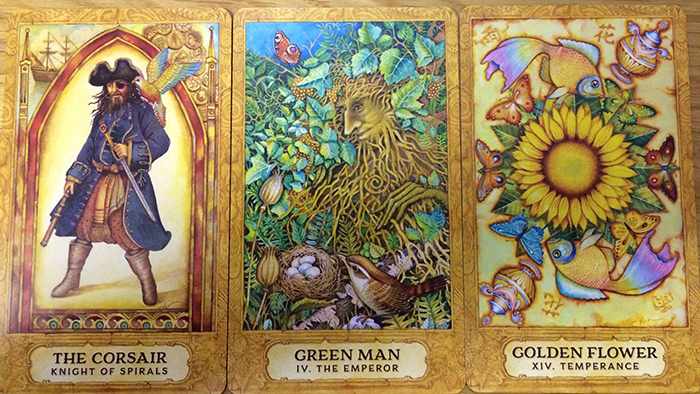 Summary: These cards ALL indicate that you are being drawn towards a path of empathy, enlightenment and, if you choose, a journey of teaching, healing and guiding others. You are on the right path, never doubt, just silence your mind and allow yourself to be guided.
On a psychic level I pick up that you need to perhaps view how you tackle the pursuit of work in order to work in the Spirituality industry. We are all conditioned to work, qualify, sit exams, do courses, get certifications and create a resume. While all of these endeavours can be helpful and enjoyable, in a metaphysical role you will rely on what comes from within more than what was achieved outwardly and this sometimes requires silencing the ego, going against conformity and doing what FEELS right.
I have encountered many people who want to work in the Spirituality industry who appear to be forever preparing for the role but never quite 'just doing it'. You can spend a lot of money taking courses and feathering your cap. I feel this is a combination of lack of confidence, and conditioning that tells us that we need to have something on paper to prove we are capable. It can also create other issues because if you doubt yourself then your clients will doubt what you are telling them. This is further exacerbated by the fact that many modalities actually conflict with one another and some of the more outlandish ones can actually alienate people. You are just fine as YOU are.
I hope you have found this reading helpful and wish you every success on your journey.

For news, updates and details of special offers, please visit and like my Facebook page.
Visit my website
Follow me on
Sessions

Most sessions take place on Skype, this can be audio with or without webcam (your choice) or written text which you can save for future reference. If you would prefer to speak on the phone I have a UK landline which you can call. If you are overseas you may want to buy a calling card to reduce the cost of the call.
PLEASE DO NOT CALL ME UNLESS YOU HAVE AN APPOINTMENT FOR A READING. APPOINTMENTS ARE MADE VIA EMAIL ONLY. THE REASON FOR THIS IS THAT RANDOM CALLS CAN INTERRUPT PAID SESSIONS WITH CLIENTS. THANK YOU!
[skype-status skype_id="fiona.beck1″ user_name="Fiona" button_theme="addme_classic" button_function="add" use_voicemail="on" use_getskype="on"]
You can also leave me a message below and I will get back with you, usually within hours.
[contact-form-7 id="446″ title="Contact form Fiona"]
Comments
comments