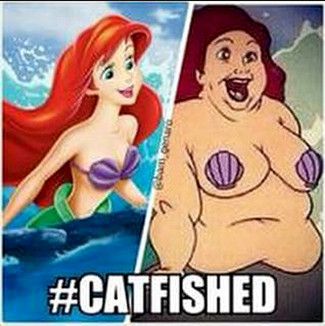 Online dating is fast becoming the one of the most popular ways to meet new people. There are many sites to choose from and no reason why you can't join several, but what are the hidden pitfalls of online dating?
1) Catfish Profiles: Any dating sites that require payment to access all of its features needs to give you an INCENTIVE to pay for this access. You may find that you can browse all the profiles free of charge, but if you want to exchange email with another member then its time to pay for a membership.
At a glance, this seems reasonable. They are not asking you to pay for membership unless you see someone that you actually want to contact. This is where you'll find "Catfish Profiles:" fake profiles with pictures of models or nice looking staff members that are there purely to entice you to part with your cash. You pay for membership and email the guy / girl with the cute picture and get no response.
You think he was not interested and while that may sometimes be the case, it could also be that his / her profile was not genuine in the first place. The sites most likely to engage in this tactic are often the ones that have large joining fees. They may also be new and / or having a very small client base.
2) Die Hard Profiles. When you join a site and browse for the first time, its all new to you. But how long have some of these profiles been there? The 'Die Hard' users are the ones who have been there for YEARS. They may be undatable, continually looking for the next hook up, married, looking for online webcam / phone sex or they just enjoy the attention / interaction. Psychopaths and Narcissists LOVE dating sites – they provide an endless source of fresh, innocent SUPPLY.
3) Scammer Profiles. These profiles have pictures taken from modelling agency websites. They will contact you, usually within days of you joining. They are monitoring the newest member listings all the time, just waiting for YOU. They often present themselves as being in the military or working for oil companies. This supports their story when they find themselves stranded overseas and need you to send them money to get home.
4) Peter Pan Profiles These are the ones displaying pictures that were taken 15 years ago when the user had a lot more hair and a lot less weight. They can also be the same people mentioned in point 2 – with the same pictures they added when they joined the site in 2000. Others will sign up today and use pictures that barely resemble how they look now.
5) The Personality Disordered Profile. This is probably the most sinister, mainly because its often the hardest to spot. This guy / girl will appear to be a dream come true. Your soul mate. The one you have waited for your whole life. They will watch and listen intently, learning all they can about you. They will then mirror all of this back at you appearing to be everything you wanted. They are doing this to many others even though you will think you are the only one. They will rush in VERY fast and be keen to push things on to the next level. They may draw you into long term plans and share their fantasy of the wonderful future you will share. This is all done to CONDITION YOU. Once they have your heart they will chip away at your boundaries and suck you dry.
Arrange a psychic reading with me
Like this article? Read my book Relationships, what YOU need to know!
By Fiona Beck
This article also appears on my website
I am a published author, certified Theta healer and Psychic. My aim is to leave you enlightened and empowered by taking control of your own life. YOU are the author of your destiny! My readings require you to accept that YOU have the power to change the course of your life and nothing is set in stone.

I have written a book: "Relationships: What You Need to Know" and also have my own thriving psychic and relationship oriented website. I am available for skype, chat and phone sessions, offering a variety of payment options.
Latest posts by Fiona Beck (see all)
Comments
comments