This Week's Featured Reader is Chrisalis. She is an international psychic with an extensive client base and also write articles and horoscopes for several psychic sites.
Her readings usually focus on the present and immediate future but also look at the past to see where the problems you are facing right now have originated. This can help you in finding your best way forward as it can show you how to change patterns in relationships and take control again.
Sometimes you may feel confused and not sure of your way forward. To help ground yourself before speaking with her you may wish to ask yourself the following questions. What is going on for me at the moment? What is it that I need or want? How do I make it happen? She feels it is good to have a focal point for yourself and where you are "at" after all this reading is for you even if it involves another person.
Chrisalis is open and friendly.She does not offer spell work. She believes we all create our own luck and we all have the power to choose our own destiny. Her readings follow what is in the confines of your own destiny but you have the ultimate decision in what you do with my advice.

Tarot Card of the Week: April 10 – April 16, 2017
King of Swords
There is strength in words this week, both written and spoken. The King of Swords has a very quick mind. He is intellectual, clever and in a state of activity.
This week you may find that you are constantly on the go, and it won't be because of the full moon energy. You have so many things to take care of that you don't get a chance to sit down. As soon as one thing I finished something else pops up to take your attention.
As can be seen from this image in the Connolly Tarot's version of the card, you have the capacity, imagination and intellect to see your ideas through but you may find there are so many things happening at once that you overlook something.
A list may help with this as you seem to be so inundated that what you miss is something that is needed and shouldn't be forgotten. If you keep in mind that Mercury has just turned retrograde, on the April 10th, then you get the idea of what you are up against.
So much to do, so little time to do it in and all the while you are fighting against communication mix ups.
Tarot Card of the Week: April 3 – April 9, 2017
Six of Cups
With Venus retrograding back into Pisces this week, dreams of yesterday and the past may be with you, as you find yourself lost in nostalgia and of times gone by.
An old friend or lover may come back into your life and reconnect with you.  Alternately you may feel the urge to reach out and touch someone from your past.
The Six of Cups — this version from Charissa Drengsen's Steampunk Tarot — speaks of memories from the past being triggered today. Possibly by an event — a song that reminds you of days gone by, a scene from your childhood, or a scent that comes wafting back and conjures up feelings of nostalgia.
Fun times and playfulness abound for you, and children may figure prominently for you with thoughts of your own childhood being triggered by their presence.
You will feel light hearted as if you don't need to worry about anything and in doing so you can throw from you worries that have been burdening you lately.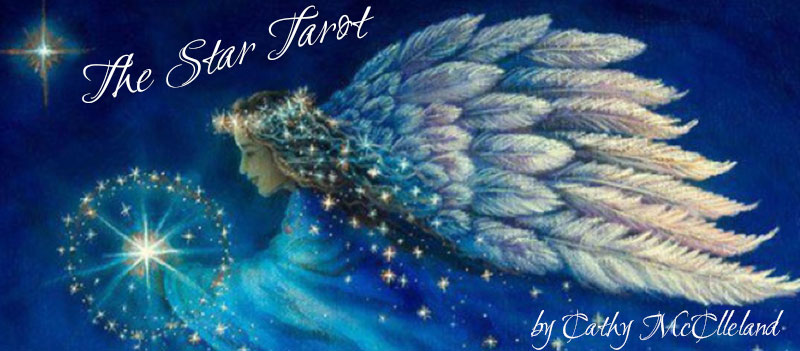 Tarot Card of the Week: March 6 – March 12, 2017
Five of Cups
If you are experiencing feelings of loneliness and isolation this week, you might want to ask yourself whether you're seeing the full picture.
The Five of Cups is often tied to feelings of disappointment and regret. You may be feeling shut out at time when you most needed to be let in; rejected at a time when you most wanted to feel included.
There may be some anger here as well, as in feeling duped in some way or betrayed. But in this version — from Cathy McClelland's gorgeous Star Tarot — the emphasis is more on what has been lost than on what can be gained.
The woman in this card focuses on the three cups spilled at her feet rather than the two that are still left and are overflowing with symbols of happiness and joy.
She can't even see them as she's so busy protecting herself from the elements (the rain and storm clouds brewing behind her) and focusing on what she's lost.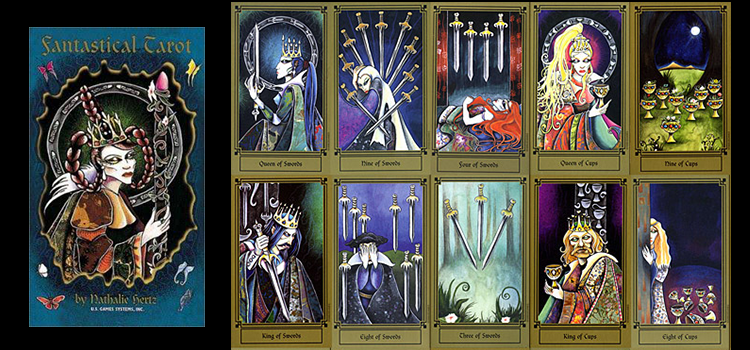 Tarot Card of the Week: Feb 20 – Feb 26, 2017
Two of Wands
This week ends with a new Moon solar eclipse, as seen in the image of this card. But it's the days leading up to it you most want to think about. The Two of Wands — like all Twos — refers to taking the spark of an idea (seen in the Aces) and forming it into a tangible, working plan.
This requires looking at it from all angles — weighing the pros and cons, evaluating time and energy, separating the wheat from the chaff and so on. This is beautifully represented in the imagery depicted on this version of the card.
In this version of the card — from Nathalie Hertz's beautiful Fantastical Tarot — we see two leopards, one dark and one light, each standing watch by their own ornate pillars. The dark leopard is an exact mirror image of the light.
Their sleek bodies curve toward one another and become "one," reminding us of the power of uniting opposing forces to make one stronger entity. The Sun shines high in the sky between them.
The key here is balance: you won't be able to make something happen without careful consideration and planning. And all the planning in the world won't cause your ideas to materialize without putting in the effort.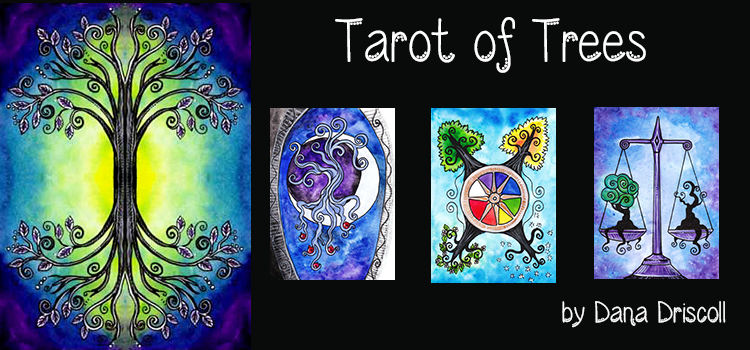 Tarot Card of the Week: Jan 23 – Jan 29, 2017
Queen of Wands
This is going to be good week for standing out in a crowd and showcasing your many talents.
Whether you're trying to make an impression at work or are hoping to leave your mark on the world in other ways, you should have no problem making your presence known.
The Queen of Wands — this version from Dana Driscoll's Tarot of Trees — is warm, vibrant, confident and creative. She knows how to lead with her heart and to garner the respect of others.
She embodies the feminine or yin aspects of Fire (wands) energy: warmth, enthusiasm, energy and drive. She's regal and majestic; dynamic and refined; confident and authoritative. She's creative, expressive and passionate. She's also very worldly and knowledgeable.
She may be someone in your life, an event or a part of yourself. She may be a supervisor, a parent, a friend or even some facet of yourself that has long been dormant.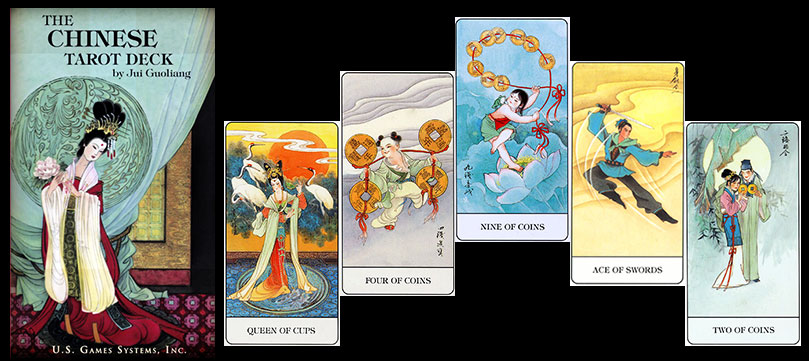 Tarot Card of the Week: Jan 9, 2017 – Jan 15, 2017
Ace of Coins
You know exactly what you are doing this week and will not be swayed by luck or chance.
The figure in this image — the Ace of Coins from the Chinese Tarot — holds an I Ching coin which is used for divination purposes; however there are no question marks surrounding what you need to next to proceed and you do not need any divination tools to tell you what needs to be done.
You are already packed and ready to go on a new venture and are ready for whatever comes your way.
If there is a new venture you have been wanting to start do not delay. You know what you need to do next and the energy in the red blossoms clinging to the tree despite the signs of a strong wind only spur you on to take your first step forward into the unknown… or is it the known?
With Mercury now in direct motion and preparing to move back into Capricorn, there is a lot of stability and security around you. This means you will not be second guessing what is coming next. My money would be on you knowing exactly what is coming next and where it is coming from.