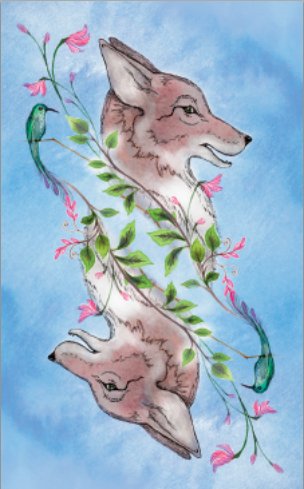 What does the next lunar cycle hold for you? Which tarot card influence will be most significant for you with the upcoming Taurus New Moon?
Relax and choose one card and then post your answer in the comments section below.
The results with your specific message will be displayed at the next New Moon, on May 18th. This New Moon — at 26° Taurus 55′ — occurs on Monday May 18, 2015, at 12:13 am (Eastern time).
The Sabian symbol for this degree is: "An Old Indian Woman Selling The Artifacts Of Her Tribe To Passers-by." It refers to the need for balance between adapting to collective needs and honoring your cultural heritage. It speaks of recognizing the value of your gifts as they are passed on to others.
The following 12 cards come from the gorgeous Animal Wisdom Tarot by Dawn Brunke and Ola Liola. They will be turned over and revealed — with a special message for you — in the coming days (just prior to the New Moon).
You can respond here in the comments section below or you can choose your card and post your response on our Facebook fan page.
This is a monthly feature which will be posted prior to the New Moon each month — so be sure to take part in all of them. If you like our Facebook page you'll be sure to see them (and the results) in the coming weeks. You'll also automatically be entered into a drawing for a special gift each month.
But for now have fun with this. Take your time, relax and focus on the cards and then pick one. The card you select will have an important message for you over the next New Moon cycle:
Check back on the 18th for results! And be sure to share and "like" our Facebook Page!
One lucky "liker" will WIN a copy of the deck used: this month it's the gorgeous Animal Wisdom Tarot.
---
The cards used for this month's Pick a Card reading come from the beautiful Animal Wisdom Tarot.
This deck was created by Dawn Brunke and Ola Liola and is published by CiCo Books. 
Share and "like" our Facebook fan page for a chance to win this deck!
Used by generous permission.
---
We are a group of professional psychic readers who are proficient in a variety of spiritual disciplines. Among us you will find psychics, mediums, clairvoyants, astrologers, numerologists, tarot readers, aromatherapists, energy workers and so much more.
Latest posts by Psychic Scoop (see all)
Comments
comments